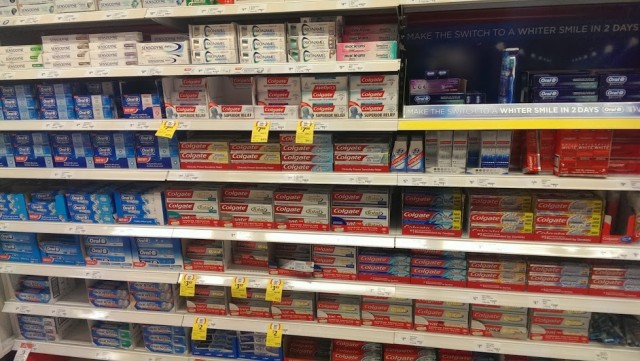 Today the question was asked of our group… how many brands of toothpaste can you name?
I managed 5… colgate, macleans, crest, oral-b and (this was a struggle despite the fact it's the one I actually use!!!) sensodyne.
Apparently there are over 30 brands available in Australia.
Today picking up a few items at my local supermarket I thought I'd see how many were available.
Not over 30.
Not really surprising… you know how those big supermarkets limit your brand choice!
So here they are… colgate, macleans, oral-b, sensodyne, pro-namel (a sensodyne sub-brand), cedal, red seal, grants, white glo, pearl drops, store brand.
Still that's 11.  And that doesn't include crest.
12.
And there are a few sub-brands that we could include but those big brands (you know the ones) get enough airplay.
So if you're ever asked the question… now you know.