So I'm driving back from rowing this morning behind a bus which has an ad for Just Cremations…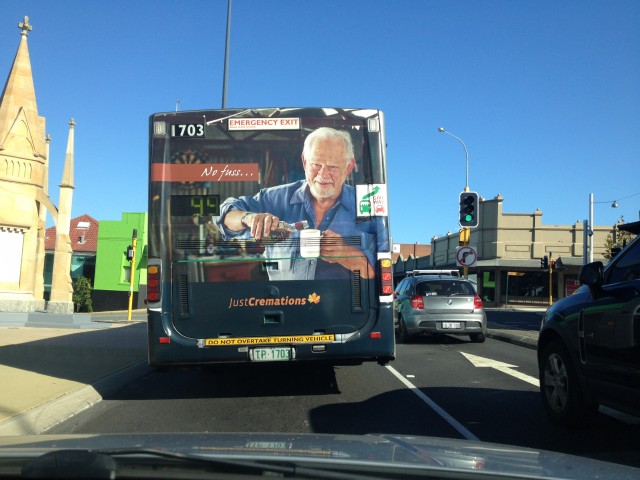 .
"No fuss" is the tag line and I thought THAT might be the best ever funeral ad I've ever seen.
I can imagine it appealing to a lot of people… especially tight-arses like me who can't bear the thought of paying a stupid amount for a party I'm not going to see.
Or a coffin that's going to be worn once and then destroyed – or maybe buried until it rots.
To me that is a ridiculous WASTE OF MONEY.
Family – please spend the money on something else.  Booze for the wake.  A holiday somewhere warm.  A new fridge.  Whatever, don't spend money on a coffin.
(actually if you are buying a new fridge – just use the box)
Because coffins are STUPIDLY EXPENSIVE.
The cheapest coffin at Just Cremations is a Peel Basic at $1190 – does that include GST?
That will do for me – unless you can get something cheaper.
The most expensive over $11 grand.  That's one way to take your money with you.
*boggling eyes*
Here's a tip.  A cheap coffin does NOT mean you didn't love the person you are putting in it.
Measure your love in other ways – not a frigging wooden (or chipboard) box.
(a small aqua box with a white ribbon – while I'm still alive – is a nice way for instance)
In my research for this post today I did come across another kind of funeral which sounds interesting – a natural burial.
Not that I want to be buried mind you, that film The Vanishing cured me of that.
I like the idea of a biodegradable burial though I wonder what they do if you have fake boobs (not that I have) – do you remove them?
Otherwise or that will be left is a bunch of bones and two silicone fillets…
I digress.
The point is – just get me the cheapest funeral on the menu.
In other news… and in an effort to stave off the impending funeral… my exercise this week has been "fair".
Sunday – social row

Monday – ergs with the lovely Evelyn
Tuesday – training
Wednesday – day off
Thursday – more ergs with Evelyn
Friday – training
Saturday – social row
Next week I head to Karratha and Broome.  I hope they have a rowing machine at the Karratha International!