Groover
Not that exciting apparently.
How was yours?
PS: By the way… not my keyboard. Groover's.
As you know Groover has been in a play recently called The Beat Goes On by A Lad In Sane productions.
Well, I have a tiny bit of the show so you can see him in action.
Actually you see more of his co-star…
My only excuse is that I got too involved in the play to remember to video later…
Doh!
Groover is in another play – The Beat Goes On – which opens this THURSDAY at Camelot Theatre in Mosman Park.
The play is really three one-act plays all, as you might imagine from the title, about police work in the home country.
Groover is in the third of these plays, directed by Sinead Bevan (the co-director of his last play Arsenic and Old Lace) and he plays a nasty piece of work.
Mr Williams is a thug.
He's been arrested countless times and always seems to get off on a technicality – the police powerless to do anything about it and forced to be polite and over-courteous all the time.
Honestly, practicing his lines with him, I just wanted to slap him!
Still it is quite amusing and thank goodness this time at a theatre closer to home – although he has some performances out at Midland as well.
I'm going both Friday and Saturday nights – hopefully I'll see you at one of those performances!
See the kids! Precious kids!
Yes, their heads are on the chopping block
and someone's got to dare to take a stand
Can't ignore any more, it could be your son or daughter
With a deadly stick of reefer in their hand!
They're heading straight for
Reefer Madness! Reefer Madness! Reefer Madness! Reefer Madness!
Save our kids!
We went to see Reefer Madness on Saturday night down at the Phoenix Theatre.
But before that we had dinner at the Left Bank which was very nice indeed. Generous portions.  If you like steak – a good place to be.  I had the Morroccan lamb which was also very pleasant.
This is the view from the balcony.
But I digress…
Reefer Madness – the musical is a 1998 spoof of a propaganda film made in 1938 to scare people about the ills of marijuana.
The production by Blak Yak Theatre has been going for a couple of weeks and Saturday night was the last night.
Phoenix Theatre in Hamilton Hill is charming. You might remember we went to see a play there earlier this year.
I was keen to go because Louisa Fitzhardinge was in the cast – she played the sweet Mary Lane – and she's also in In A New York Minute with me. (she's the red head)
It was terrific.  Groover said to me yesterday that if it was still on he'd go again.
Really fun lyrics, great cast, tuneful singing and great hilarity – especially the Jesus scene.  Classic.
Louisa was as expected, simply brilliant – a highlight was her dancing!!!
And her co-star playing Jimmy was also great.
We also loved watching Roisin Bevan who you might remember from Arsenic and Old Lace.
A shame it has finished but a great testament to some of the great community theatre on in Perth at the moment.
I hate the casino.
It's a sad sad place.
Banks and banks of soul destroying poker machines, and now even some of the gaming tables are electronic.
Very bad fashion.
We went there, Groover and I, after going to see Sleeping Beauty put on by the WA Ballet – and a fine production it was too.
Now previously we had a rule at the casino – and that was that I was to go far away from Groover so that he would win.
He is lucky.
Well he's lucky when I'm not there.
My nickname is TOD – yeah you picked that up from the title.
But sweetly he said – no stay, I'm lucky and you're my good luck charm.
Awwwww.
His game of choice is roulette.
Ten minutes later when he was down to his last chip I suggested that maybe I might wait in the bar.
It's like I balance out his luck… or maybe I suck all the bad luck away from him so he can be extra lucky.
A bad luck magnet.
So no.
I won't be going back any time soon.
Although I was quite intrigued with a game called Pai Gow that uses Chinese dominos.
I wsa tempted to have a go but after half an hour I still couldn't quite work out how you play.
And with my record – and at $50 mininum stake – I was wasn't prepared to just wing it.
Although, having done some research it sounds just like the card game Brag.
Oh you want to know how Groover ended up?
Maybe next time I shouldn't be in the building at all.
Our 18th wedding anniversary saw us head to Fremantle to celebrate.
We started at the Sail and Anchor where I have to say I was disappointed with the beer list… none of my favourites on it.
I ended up with a midi of Redback, Groover had an IPL which he was very happy with.
The table needed a good wipedown.
Luckily the company was good and the atmosphere convivial.
After the beer we went for a walk around the town.
It was Sunday afternoon busy and we wandered in and out of the shops along High St all the way down to the Roundhouse where we saw a bridal party right near the spot where we first kissed all those years ago in 1990.
The Whalers' Tunnel is now closed but that night in January it was open and we explored it together in the balmy heat of an Australian summer.
After our walk we decided that Tapas at The Monk was the way to go.
They do THE BEST pork belly and scallops and they chop the squid up like french fries and serve it with a Thai dressing that is to die for.
We sat outside on the not-so-high stools and sampled the beer and a cheeky pinot noir that went down as easily as something that goes down really easily…
But Groover was craving another IPL so back to the Sail and Anchor we went for another round.
No pinot on the menu either so I settled for a Sav Blanc.
Sigh… such hardship.
Eighteen years is a long time and there have been times when it seemed impossible that we would be here together.
But here we are, Groover cleaning the pool, me about to sew a dress… the picture of domestic harmony.
Oh and the kids?
Banned from their computers.
Maybe not so harmonious after all.

This is a photo of some lovely flowers Groover gave me last week.
They have opened so beautifully, so slowly that we really have enjoyed them but the reason for the post is to show you the capability of his new Google phone.
I think it has some fancy filters applied but even so, pretty impressive hey?
By comparison this is from my camera with no filters applied:
Frankly I'm blown away.
The blackberry I use for work also has a 5MP camera and the photos aren't nearly so clear.
And maybe there are filters I can apply but they are not so easy to apply (or find).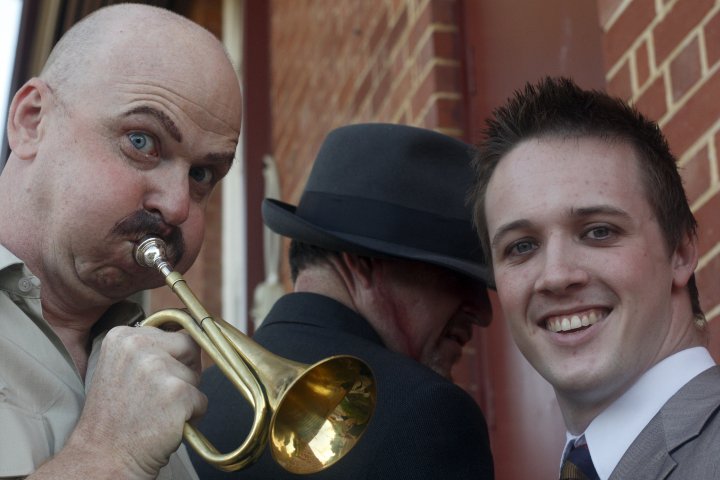 Only a month to go before the opening night of Arsenic and Old Lace, the play Groover is appearing in at the Midland Junction Arts Centre.
Four weeks to find out where that actually is!
Groover is the one with the bugle.
Scripts are already down and the group are doing full run throughs which I think is pretty impressive.
And I'm learning new phrases…
Like "speedlining".
Or at least I think that's what it's called.
Where you go through the script at speed without the actions just to get the words down.
It also apparently has something to do with logging and is a brand of spray on ute tray liner.
I'm pretty sure Groover isn't going out at night for a spot of logging.
His hands are too soft.
Anyway I've booked out tickets and – no pressure darl – but we'll be there in force!
If you'd like to join us – you can book here.
Yes community theatre is all very well in theory – a fun time out showing off in front of your mates.
But there's some serious line learning to be done – even if you've got a smallish character part.
So… what better way than to learn them and exercise at the same time.
Once at rehearsal Groover says the lines didn't come as easily as he hoped.
Apparently that's quite common.
I can't remember how I used to learn lines back at uni but maybe you have some tips to share.
How do you learn lines?
I came home the other day to find some ginger hair in the bathroom sink and the house as deserted as the Marie Celeste.
Then Groover came home – he'd had to make an emergency dash to the local electronic store to replace his clippers.
Where's your beanie when you need it?
He could have worn his wig of course.
And in fact did later that night when we went to a comedy fundraiser at the Hollywood Bowl(ing Club).
I couldn't stop laughing as person after person failed to recognise him.
And the wig is sooooo fake!