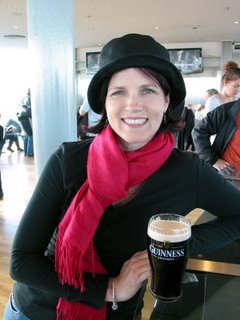 Thanks for dropping by and taking the time to read a bit more about this site. There have been several incarnations of Redsultana since I started  in 2002.
First let me explain the domain name. Red is my husband Groover's real name in Gailic and Sultana represents what my name means in Hebrew. Well, my name means Princess but I thought Sultana (a female Sultan) sounded a bit more hip.
The original tagline (now long gone, came from Kim Stanley Robinson's novel The Years of Rice and Salt. I was given this novel by a very dear friend on my 38th birthday in the memory of another dear friend. I haven't quite read the whole book – it's as if I can keep some connection with him if I don't. I opened it at random and found the quote, then I closed it to read the inscription again and now can't find it. So sorry, no page reference.
This time she did hesitate: and it would be difficult to describe her thoughts in that crucial moment of her life.
You'll find info about the Community Blogger Award here.
The main characters:
Groover – is my husband. He likes agreeing with me (because I'm always right), politics and current affairs, cooking and the occasional (*cough splutter*) glass of wine. Favourite wine at the moment is still St Claire Savignon Blanc.
Hugamuga – is my 18 year old son. He loves DOTA2,  orchids from south west WA and civil aviation. He is also referred to as The Orchid Hunter. He lives at St Georges College and studies Biology at UWA.
Hugamuga comes from huga·ger-muga·ger: noun
1. disorder or confusion; muddle.
2. secrecy; reticence: Why is there such hugger-mugger about the scheme?
:adjective
3. secret or clandestine.
4. disorderly or confused.
verb (used with object) 5. to keep secret or concealed; hush up.
:verb (used without object) 6. to act secretly.
Dippity – is my 16 year old daughter.  She is into drama, cooking and economics. Also known as Junior Poshi.
And of course me – Cellobella
20 facts about me:
I'm known as Cellobella.
I don't play the cello.
I do own a cello.
I wish I did play the cello.
Someone once offered to compose a piece for me to play on the cello.
That was before he knew I didn't know how to play it. Sigh.
I also own a ukulele.
I love playing cards.
I especially enjoy playing bridge.
I'm currently a One Star State Master – which sounds a lot more impressive to the uninitiated than it actually is.
I also enjoy playing other games, including 7 wonders
I love reading.
I am married and have been since 1992, the day the West Coast Eagles won the premiership for the first time.
I have two children.
I am 45.
I have an Bachelor of Science in Agriculture.
I work full-time at a radio station.
I live in Perth.
I love rowing and row for the Masters Squad at UWA Boatclub.
I do like Chimay Blue and fine wine.
This is my personal blog. The views and ideas expressed on this website are entirely my own and not those of my employer.
Contact via this form: