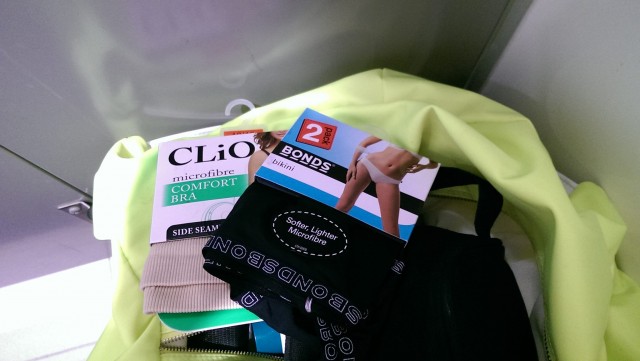 So I'm riding my bike to work and it takes about an hour.  I was listening to the Radiolab podcast about American Football and it was surprisingly interesting.  I mean, Radiolab is always interesting so that wasn't a surprise but it was a surprise that I was interested in American Football.  Anyway it got to a cliffhanger moment and then my new bluetooth headphones ran out of juice.  (yes you told me that would happen Rory)
As it turned out that was lucky.
Left to the whistling static of the wind rushing past my ears my thoughts turned inward.
I went over my morning so far, and then started thinking about my day at work and what I needed to achieve…
Roster changes, program development, campaign monitoring… which led to what I'd be wearing at work and I thought about the dress I'd popped in my bag and how easy it had been to pack this morning and how streamlined my organisation was and then goldfish like I went back to how I packed my bag and I realised that I might have been a bit too streamlined.
Now I blame Pia for this.  She is the one who sold me her Rotto bike.  A brand new bike with suspension and more gears than you could possibly need.  She's a serious cyclist.  To underline how different we are as cyclists – I REALLY like the basket on the back of my bike.  I would choose to have a basket.
Anyway she told me that cyclists NEVER wear undies under their padded bike shorts.
Apparently they are specially designed to wick away sweat so if you wear undies you just end up with soggy knickers.
So there I was undie-less on my way to work suddenly aware that when I got to work I would have NO UNDERWEAR.  And my little dress, well let's just say it's not a dress you can go commando in.
I was about half way to work so then the dilemma – do I turn back?  Nah that would really delay me getting to work.  Do they sell undies at the local IGA?  Dare I risk it?  Could I get away wearing my sports bra and no undies?  Keep the bike shorts on all day?  Ewww.
Luckily I still had to go through Subiaco and I remembered there was a supermarket that I was pretty sure opened at 8am which would be the time as I cycled past.
Mission Emergency Underwear.
Actually the comfort bra is pretty comfortable.