Isn't it interesting that when you let go of something, the something happens!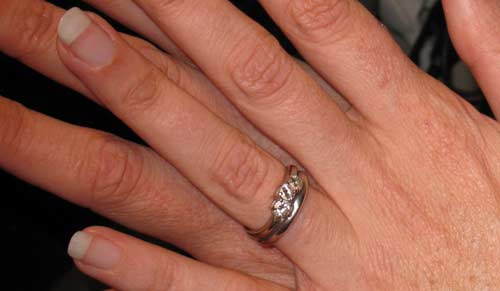 I've been appointed to the job I've been doing for the last year (after acting for two years in a similar position the years before).
My boss wrote a lovely affirming email and sent it to my colleagues and today has been very pleasant getting lots of kind supportive emails congratulating me.
The thing is about a month ago I decided that I didn't care anymore. 
The acting thing, which used to frustrate me, I turned around in my brain as my "get-out-of-jail-free" card. 
You know, if it all got too much I could say "I want to go back to my old job" and walk away.
I dropped the "acting" from my signature.  I figured that I was actually doing the job.  It had been over six months.
It's not like you see the actors on stage whisper to the audience now and again – don't worry I'm just acting – in a dramatic moment do you?
And then I was appointed.
It occurred to me that I did the same thing way back in 1992 when I was living with Groover in Subiaco.  (that's where today's photo comes in *wink*)
We'd been going out for a couple of years and it seemed to me that he was "the one" but as yet he had not raised the subject of marriage or future commitment.
Again, I decided to turn that into a positive.  My get-out-of-jail-free card again!
The next month he came back from a holiday with his mates and proposed.
A life lesson learned?
What else can I apply it do…