I've been thinking this week about being handy around the home.  Jamie from work raised it.  He's a thirty-something (maybe late 20s) generation Y and he was lamenting how he is rubbish when it comes to those fixes  around the house that our grandfathers and fathers just… well they just do stuff.
Need a new surround for your oven?  Right on it.
A wooden box for your computer.  No problemo.
You want a picture hung where??
A couple of years ago Rory and I built a pergola with decking out the back.  Well when I say we built it, it's probably more accurate to say Dad built it and we assisted him.
Engineer of the Year in 1995, he is the master builder.
Occasionally though, we got to play with the grown ups tools.
This is dad supervising me on a circular saw:
Now we need a new pergola out the front and I'm hoping Rory and Hugo might be persuaded to have a go.
In the meantime, today I have been pretty handy myself.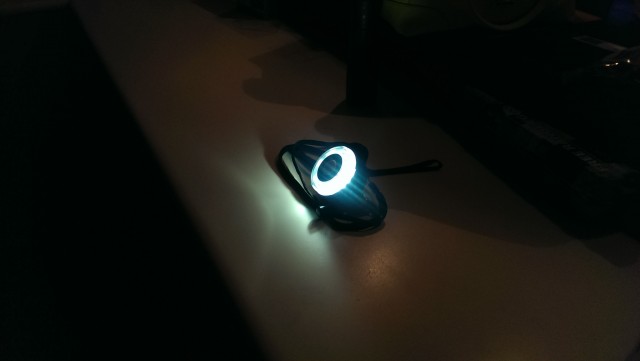 I've got a rowing light which a couple of months ago just stopped working.
Very annoying.
I thought at first it was the battery nodes as they were looking a little rusty, but even cleaned the light wouldn't work.
So I got out my handy phillips head baby screwdriver and undid the screws and took it apart.
There was moisture in the "light" area so I dried that off first and then I realised that the little wires going from the battery to the electronics had lost connection.
(the second one especially so after I wiggled it to see if it was firm… as you do)
So I got out the wire stippers and the soldering iron and as you can see from the picture… voila!
Isn't soldering fun.  Fun in an annoying – wish I had a magnifying light lens thing – damn it that solder ball got away again – kind of way.
I am pretty impressed with myself.
Fingers crossed the light stays working!