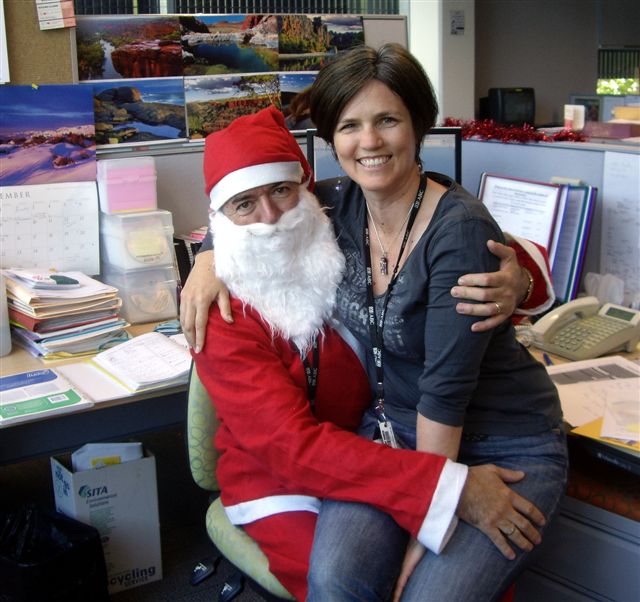 Yesterday Santa came to work to wish me a merry Christmas.
I had been a VERY good girl indeed and was given a bottle of Amberley Shiraz.
I felt like drinking it straight-away but that isn't the behaviour of a very good girl is it?
*warning… rant ahead.
This Christmas has been stressful.  I find myself crying on the way to work for no good reason.  Well apart from the obvious ones. 
You know, working full time while trying to get the house and garden in some kind of order for Christmas day and do my Christmas shopping.
It would have all been a lot less stressful if I was an organised person and did all that preparation stuff weeks ago.
Of course no one else cares what the house and garden looks like so why I bother trying to get anyone else to help is beyond me.
So here's my day yesterday.
Got up early to start work early enough to enable me to leave early to do some Christmas shopping.
Left at 3 and went shopping for table decorations, crackers and the like.
Got home at 6, put on a load of laundry and had dinner (cooked by Groover).
Cleaned up after dinner.
Folded 5 loads of washing. (washed in part by Dippity)
Spent two hours trimming and weeding and sweeping the jungle next to the pool.
Went to bed.
This morning I woke at six with a blinding headache.  Took two paracetomol.  Went to work.
And I've been crying all morning.
I can't work out why.  I'm not normally this much of a mess.
And it's pressure I am applying to myself. 
As I said, the rest of my family don't care that the pool is a mess so why am I beating myself up about it.  Why add it to the impossibly long list of crap I have to do before Christmas?
Why not just cut myself a break?
I guess the fact is that I am not superhuman.  I can't work full time and organise the house and dinner for 16 people, and go to our regular Christmas eve party and organise Christmas presents in three days.
It's not like I'm even doing the cooking!  Groover is (apart from a salad) and we're getting everyone to bring food.
So you know what?
I'm letting go trying to be perfect.  If presents aren't bought, if there's a big pile of clippings next to the pool, if the house is a tip, well… hey I'm human.
A normal, disorganised, but hopefully not teary person.
Merry Christmas.
PS:  Of course I won't really let go.  I'll beat myself up for being a bad mother, a lousy housekeeper, a lazy gardener, a stressed-out hostess and somehow, it will all come together.
Just book me in to the funny farm in January.