See the kids! Precious kids!
Yes, their heads are on the chopping block
and someone's got to dare to take a stand
Can't ignore any more, it could be your son or daughter
With a deadly stick of reefer in their hand!
They're heading straight for
Reefer Madness! Reefer Madness! Reefer Madness! Reefer Madness!
Save our kids!
We went to see Reefer Madness on Saturday night down at the Phoenix Theatre.
But before that we had dinner at the Left Bank which was very nice indeed. Generous portions.  If you like steak – a good place to be.  I had the Morroccan lamb which was also very pleasant.
This is the view from the balcony.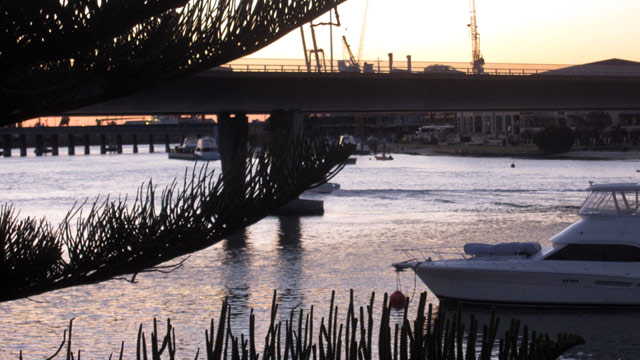 But I digress…
Reefer Madness – the musical is a 1998 spoof of a propaganda film made in 1938 to scare people about the ills of marijuana.
The production by Blak Yak Theatre has been going for a couple of weeks and Saturday night was the last night.
Phoenix Theatre in Hamilton Hill is charming. You might remember we went to see a play there earlier this year.
I was keen to go because Louisa Fitzhardinge was in the cast – she played the sweet Mary Lane – and she's also in In A New York Minute with me. (she's the red head)
It was terrific.  Groover said to me yesterday that if it was still on he'd go again.
Really fun lyrics, great cast, tuneful singing and great hilarity – especially the Jesus scene.  Classic.
Louisa was as expected, simply brilliant – a highlight was her dancing!!!
And her co-star playing Jimmy was also great.
We also loved watching Roisin Bevan who you might remember from Arsenic and Old Lace.
A shame it has finished but a great testament to some of the great community theatre on in Perth at the moment.