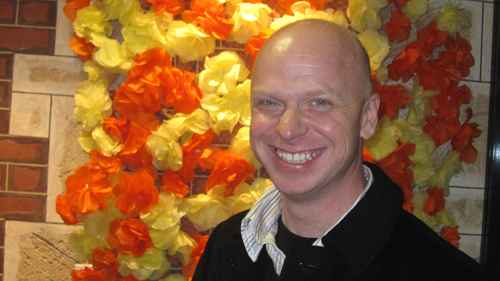 Tonight we went to the Phoenix Theatre in Hamilton Hill to see the last night of the community theatre production of "The Effect of Gamma Rays on Man-in-the-moon Marigolds" a play by Paul Zindel, directed by Jane Sherwood.
When I first saw this on Facebook I was immediately keen to go.
I was a big fan of Paul Zindel's work as a teenager.
They are quite dark, darker in fact than I remember.
The story in Marigolds is about a young girl who is working on a science project.
It's set in the family home, populated by her manic older sister, her alcoholic, slovenly mother and an elderly lodger who brings in what appears to be the only income.
She is the "mutation".
Groover and I sat front row centre.
The theatre has recently been refurbished and it is a great little theatre.
The seats are the pull out kind that seem typical of community venues.
We were impressed with the set which included a staircase, a messy kitchen and newspapers everywhere.
The mother played by Cally Zanik, holds the play together.
She has so much dialogue!
I thought she did a good job.
Her drunk scene felt quite believable to me.
Groover felt she needed to be a little darker to give the play more depth.
His favourite was Tilly – played by Melissa Kiiveri – the young girl with the science project.
She did a great job as the dreamy young girl fascinated by the atom.
And as this play was written in 1964, the atom would have been front and centre of people's minds.
Paul Zindel was a science teacher and the play won a Pulitzer Prize for Drama in 1971.
We loved Nanny – the elderly lodger played by Barbara Good – who doesn't say anything but whose facial expressions were classic.
Ruth, the crazy older sister (Carmen Miles), was good as well.
And Janice (Kat Duynstee) did a good job in her cameo role – the plate on her teeth a great addition to her character.
Overall I really enjoyed the play.
I'm so glad that we have started going to community theatre.
The standard so far has been excellent.
(of course, I'm a little biased toward Arsenic and Old Lace but it was good)
In August, Phoenix is putting on a play by Python regular, Eric Idle, called Pass the Butler.
We're going.