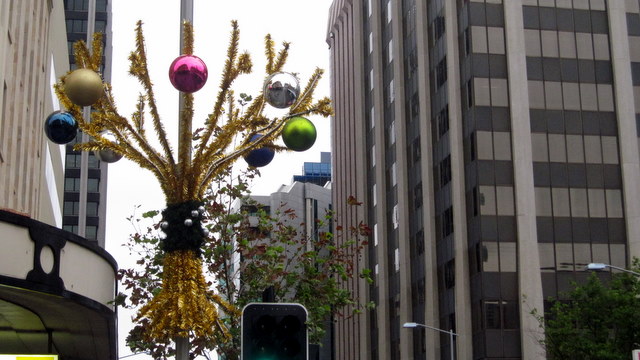 I'm sorry but isn't this the boom state?
Could we not do something a little more classier?
I know that everyone has those old tinsel trees ready to throw on the verge and therefore the City of Perth is doing us a favour by recycling them but please people!
Surely we can do better that these, discovered at the corner of William and Hay this afternoon.
It's not like they are traditional – no sentimental value here to warm the cockles of my jaded heart.
They are just crap and ugly.
(in fact Worst of Perth, you must be close to doing a Christmas special no?)
How I long for the fairy lights of New York and London.
Yes yes it is dark there just after lunch and we need something down in Sandgroperland that will stand out in the bright sunshine.
Surely it can't be that hard.
Boughs of holly or some other dark green foliage… maybe something native?  Or those leafy red flowers that are around at Christmas time… poinsettias.
They look Christmassy and you could always add fairy lights for night-time.
I know it must be hard but year after year I am embarrassed.
To call them more appropriate for a country town suggests they have some rural charm.
I'm not sure even the most impoverished town would want them.
Of course… I could be wrong.
And goodness knows we could spend the money elsewhere.
In a way, I'd rather they didn't have any decorations at all.
Bah humbug!
Just call me Scrooge.
It's only November after all.