I love the Council House lightshow and when showing visitors around I will always point it out – if I'm near the city.
The other day for instance I drove my eastern states colleague back to his hotel and driving past Kings Park I thought a little detour was in order.
He made the usual appreciative noises about the view – which is pretty spectacular – and I, pointed out Council House.
"See that building down there lit up in pink", I said, "Well the City spent millions on this great lightshow and I really love it. Any minute now it will change colour. "
"It's soooo beautiful!" I enthused.
And we waited.
And waited.
And waited.
But the building remained stubbornly pink.
And I shamefacedly drove down the hill and dropped him off.
Two nights later I was driving back from bridge – State Open Teams – we're coming last – and I noticed that the building was STILL pink!
What the hell?
Was it broken?
So I rang up the City of Perth (as you do) and asked them.
Turns out if you're a not-for-profit or charity you can book the light show.
This week, apparently, the light show has been commandeered by the Pink Ribbon Day crowd.
You know, for breast cancer.
And get this… it's free!
Well… unless you want a complicated show that is when it costs you the time it takes to program in the lights… maybe $50 the fellow told me.
And it can be quite complicated – words scrolling across the building for example.
I was blown away.
But, I'm afraid, still a little bit pissed off that the "proper" light show wasn't on when I wanted to show off to my colleague.
But that's just me.
Selfish.
Breast cancer research is a good cause – I just kind of wish they'd paid the $50 and put on a show.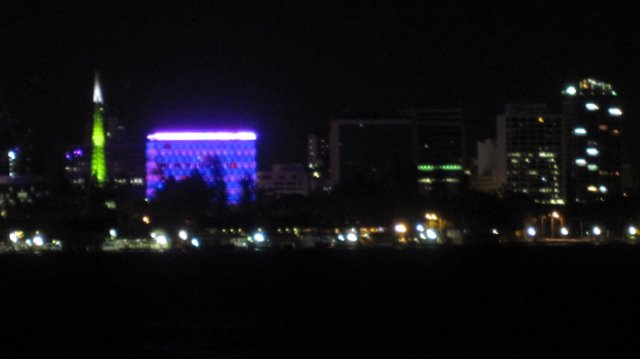 Apologies for fuzzy cam but it's only an instamatic camera – what can you do?
And that green spiky thing is the belltower.
I wonder if you can hire that too?