Alright enough already.
Too many people have told me about the protein diet where you eat protein only for three days and then have high protein after that, one day off a week, 10,000 steps a day… yeah yeah I hear ya.
Well I'm going to try it.
At this point I would have put in a photo of me at my skinniest as inspiration… but I couldn't find one… so this is a photo of me aged about 8 (and my bro): "Hmmm…" I'm thinking, "protein… "
Anyway day one worked out okay.
I walked down to my favourite deli to get some sliced meat for lunch and realised I had left my wallet at home.
The 10,000 steps just became doable.
So on this diet, you're supposed to not eat for an hour after eating, and then you have to eat again within three.
Well I'm just not good at keeping to time unless I'm on air…
I was so hungry when I got home.
Hungry and a little bit sick I think.
Anyway Groover, bless him, had found the lowest carb meal he could possibly find in Delicious and made it for me.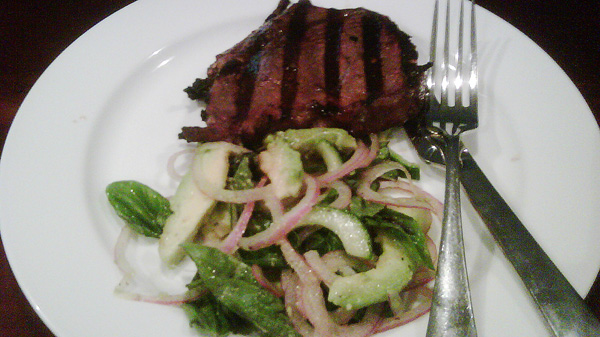 How yummy does that look?
Not as yummy as it tasted.
Unfortunately I wasn't allowed to eat the salad because it's not protein and I'm on protein only for three days.
Sigh.
Day one and I break the diet.
A small, tiny transgression surely…
Anyway after dinner I really did feel sick – so I'm not sure whether this protein only thing really is that flash.
Or maybe I shouldn't have had that glass of wine.
It wasn't protein wine.
Sigh again.
Two transgressions.