I've been pretty good this weekend. Yesterday I spent five hours weeding in the garden.
It was long overdue – thigh high thistles – and it took me ages to clear just a small section of my garden.
I figured that counted as exercise.
Then, this morning Groover and I went for an 8 kilometre walk. It was a beautiful day. My legs are aching now though.
Unfortunately two days of exercise won't make up for the five days of slackness before hand but in that time it was my birthday and I made a dress so I figure that counts for something.
No?
Oh.
Anyway here's my exciting news which I'm sure will excite my fellow Club HASAYers – especially the ones who work outside the home.
At work we've formed a lunch club.
(no, really, this is good… keep reading)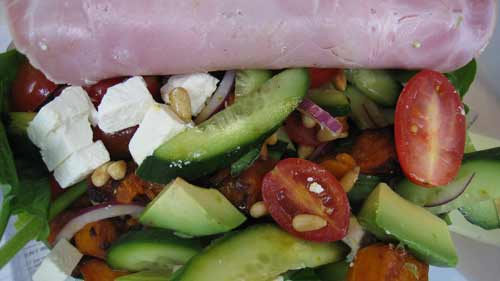 What we do is each day one of us makes lunch for all five in the group. The lunch must be lo-fat and healthy.
It's brilliant. It's cheaper than getting lunch from the local cafes, it means we always have a healthy lunch that we don't have to make and it makes us part of a little community. It means each day we get a surprise. And really – making one salad or five doesn't really take that much more effort.
My first day is Wednesday and I can't say I'm looking forward to it. I'm a bit nervous the girls won't like my salad. So, any recipes, tips would be gratefully received.