Remember me telling you about this singing group?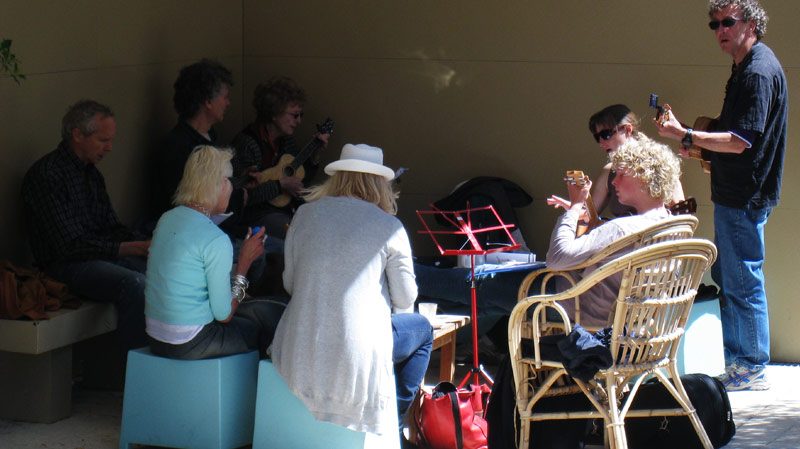 I go past them on my walk every Saturday.
They meet around 9am outside The Blue Duck (this is the cafe in front of which Ken Crew was killed by a shark – remember that?)
Well today instead of power walking past them (*snorts* at thought of actually power walking), I turned around and went back to ask them who they were and why they sang every Saturday.
Turns out they are the Perth Ukelele Club and they have been going about 18 months.  It started with three people and gradually people joined and now they have quite a healthy group going.
They love the ukelele because it's a really easy (apparently) instrument to play and quite a cheap one too – about $25.
The organiser – who wasn't there today – has collected a song book of songs with the chords and they take turns to choose a song.
They invited me to join them and sing!
Obviously singing voice doesn't matter.  Nor did sweaty attire from walking 5Ks.
While I was working out whether to stay and prove to them I couldn't sing or continue on my walk one of the group told this story.  She is a doctor and works in Emergency and this week she used singing to help cure someone:
So did I stay?
Of course!  We sang Bad Moon Rising, Bye Bye Love, Let it be, I have a dream, California Dreaming (harder than you think!) and many others.
Afterwards I walked home with a lighter step.
And I'm half convinced to buy us all ukeleles for Christmas.