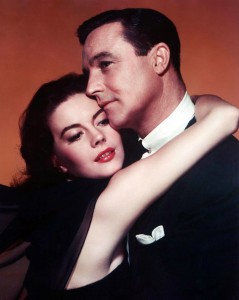 Jennifer Byrne from the First Tuesday Book Club on ABC1 says her comfort book is Marjorie Morningstar by Herman Wouk.
She read it when she was a teenager and it resonated.
It's the story of a Jewish teenager  in the 1930s, living in New York with dreams of becoming an actress – she falls in love with this glamourous songwriter – look I could go on but perhaps Wikipedia has a more fulsome description…
…are you back with me?
SPOILER ALERT
Anyway many readers – in particular young teenage girls are completely disillusioned by the ending.
This is because Marjorie doesn't fulful her dreams of becoming an actress, preferring to follow her dreams to marry this charming writer – who is a wastrel and a bit of a bastard if you ask me.
He skives off to Paris and she follows him, eventually finds him and when he asks her to marry him… turns him down.
She then goes back to New York and marries someone else, has four kids, goes prematurely grey and lives happily ever after.
Jennifer says she found this book very empowering as a teenager.
Here is this young girl with big dreams living in New York, a working girl.  A girl forgoing the hunt for a husband in order to be a broadway success.
Maybe you have to be a teenager to see that.
I read a completely different story.
I read about a young girl, very beautiful but with not that much acting talent in a co-dependent relationship with a cad and who is more concerned about marrying said cad than her acting career.
Eventually she becomes worldly wise, realises the acting thang just ain't never going to happen and realises that Noel is a complete loser as well.
Maybe it's because I'm a grey-haired (though dyed a fetching brunette) mama from the burbs reading this and not a young 17 girl full of dreams.
Or maybe as a 17 year old you can't see the old and cynical tone of Herman Wouk's world?
For me, this book is about acceptance.  Acceptance of your limitations and those of others.
Have you read it?
What do you think?