Christmas happened, and in fact was the most stress-free Christmas dinner that I've hosted.  I know! Can you believe it?!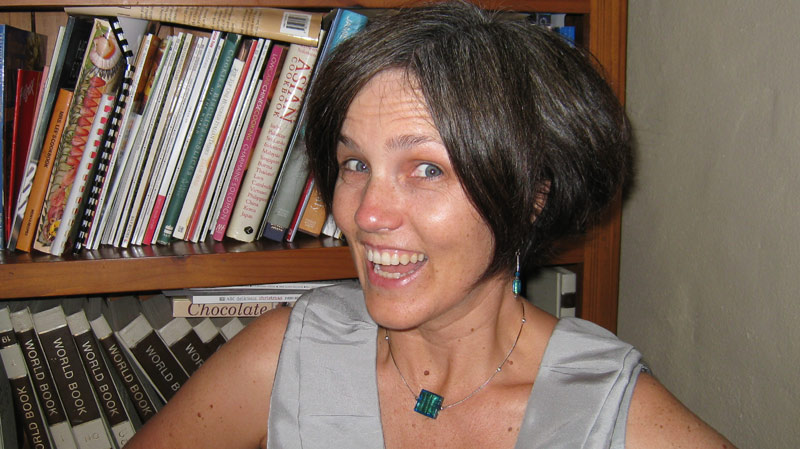 What? I don't look hysterical do I? Oh. Just my hair…
The day started with me waking my teenage son so we could open presents.  Long gone are the days when small people jump on you at 5am to gather by the tree.
Eventually the males of the household dragged themselves to the lounge room and with coffees in hand the present giving began.
Groover has always maintained that all he wants is "a gumnut stuck to a card" from the kids – in other words – it doesn't matter about the gift but he wants them to at least think about him when they buy it.
We saw a wry smile when he opened his first present from Dipp to see – yes, you guessed it – a gumnut stuck to a magnet.  The rest of us rolled with laughter.
I think the presents were a success.
The funniest was the last one, again for Groover.  He'd wanted me to get Dipp ABBA Singstar but I knew he really wanted it for himself. So I decided the kids could give it to him for Christmas.  
The night before when we were wrapping presents he asked me if I had bought it for Dippity.  I feigned horror: "Oh no! I forgot!!"
"What?  But you knew I wanted to give her that!  I would have bought it if I'd known.  Damn!" He ranted on, "I was really looking forward to it…"
It was all I could to do to stop cracking up.
So when he opened the last present and we saw his face – it was priceless.
After present opening of course we had to have a practice of Singstar ABBA – gee the songs are fun to sing although I do I do I do I do is much harder than I thought – they sing that line in a different key or something.
Anyway then Mum and Dad and my Aunt arrived with more presents and I got – how is this for an unusual present – a colon cleansing kit.
No there are no hoses – not that kind of kit – it's a detox program with herbals and such like.  Well I suppose it can't hurt and Mum is going to do it with me.
Gives me the runs just thinking about it.
Then we cleaned up the house in readiness for the party.
Then I made my salad and discovered I was out of toothpicks.  So while Groover dealt with the turkey – turkey number 1 – I tested out my new ipod tuner thingy for the car and went over to mum and dad's to get some toothpicks.
I stayed yarning for a while and then moseyed back home to make some devils on horseback (prunes wrapped in bacon) and set the table.
Guests started arriving at 6ish and we had a glass of champagne-style wine and prawns and then began the feast.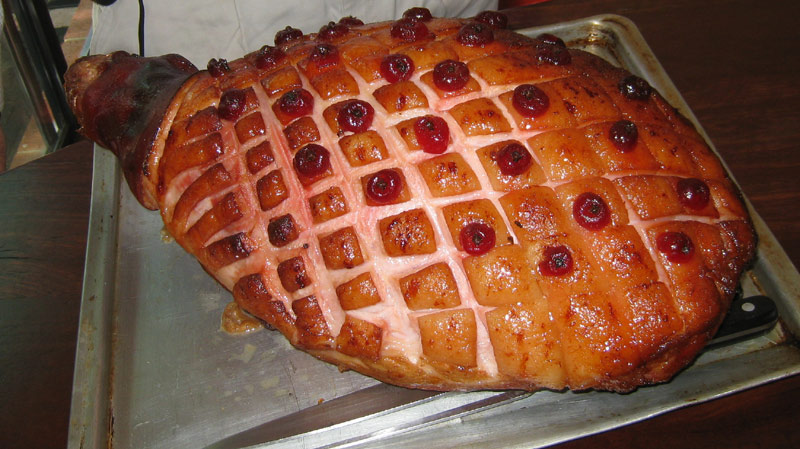 Dad's ham was delicious as was the turkey and then we had four salads. It was delicious and I didn't miss the brussel sprouts AT ALL!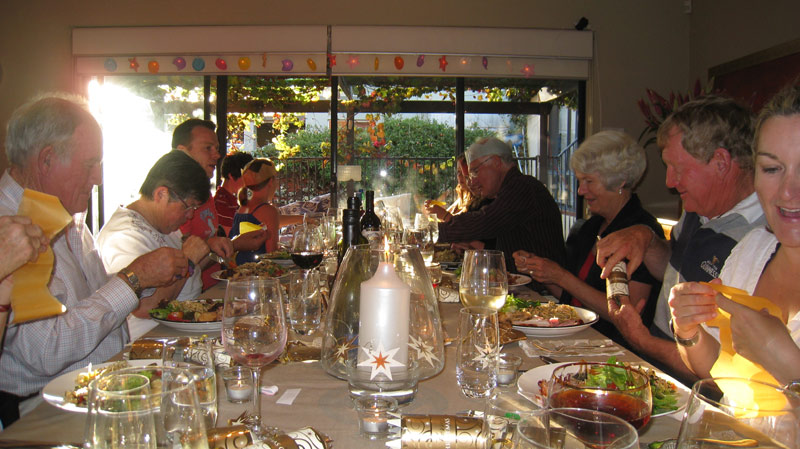 As the sun eventually set, the fairy lights came to life and we had proper plum pudding – brought by R.
And then presents!
This year we did a Kris Kringle… here are the instructions Groover sent to everyone:
In an effort to maintain the spirit of Christmas, the social responsibility to reduce our global footprint and have a bit of fun all at the same time, we are proposing the following gift-exchanging policy for those wishing to take part.

Please only bring one present each. This present should be:

New or unused and in its original packaging if possible.
Wrapped in some kind of paper or material which disguises its identity.
Not labeled in anyway

The gift can be of any value whatsoever, but the idea is to re-gift something that you have lying around the house that was given to you at some time and you really can't stand.

Anything.

Perhaps it was a corporate gift or a smelly candle or something you bought and then never used. It may be something you had multiples of, whatever the idea is that it is a new item YOU DON'T WANT!

The gifting ceremony will involve people (one at a time) selecting a gift and then unwrapping it to squeals of delight, eg:

"Oh fantastic, a jar of tastefully themed Blue & Yellow Eagles Pot Pourri!"

 

Then the fun really starts, the next person selects a present and as they unwrap their Perspex Frog / Shower Timer they then have the choice to exchange their gift with any of the already opened items.

 

So if they prefer the Eagles Pot Pourri to the Shower Timer, said gifts are swapped until all gifts are unwrapped and hopefully that rather useful set of outside table-cloth fasteners is in your possession and all is well with the world.

It means that the first person gets to choose what they want out of all the unwrapped gifts but might have to relinquish it and the last person has no choice of the unwrapped presents but can choose whatever they want.
It was HILARIOUS!  The massager was very popular as were the men's socks.  There was also a pink make up bag, a tomato plant and some Japanese bells among the gifts – it was so funny to watch.
And of course we finished the evening with a massive Singstar session.
Because everyone pitched in it was a breeze to host Christmas this year and of course the good part of hosting is you don't have to drive anywhere!
So despite Tuesday's little melt down – you know what?  I'd love to host Christmas again.
I hope your day was a good one.