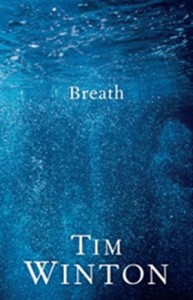 I think this is Tim Winton's best novel.  He has lost his earlier pretentiousness.  His writing is spare, evocative and compelling. 
The tale is told by a paramedic in his 50s who attends an accidental hanging.   He knows it's accidental because of events in his youth, and so you are drawn into this tale of coming of age.  Of a young boy becoming a teenager, who with his friend become acolytes of an enigmatic surfer.  A surfer who encourages them to risk everything for the rush that comes with living on the edge.
The rush that cuts through everything to make you feel alive.
It's also the story of friendship, and of chips that we carry with us from childhood.
I felt a little creeped out by the book.  You want to like your hero right?  Instead I felt repelled.  But perhaps it was more that I was repelled at how easily he slipped into character traits that were less than seemly.  Maybe slipping into them is easier than we'd like to think. 
Groover thinks the book describes Tim.  I don't like to think of him as that creepy myself.
Maybe that's why I feel disturbed some hours after finishing it.
One other small niggle:  I hate the way Tim uses Angeles and Sawyer for the town names.  I find it a distraction and it gives me the irrits. 
I'd be interested in your thoughts.  Have you read Breath?