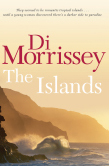 When you pick up a Di Morrissey book you are not expecting high literature, or even medium-high.
You are expecting a rollocking saga with beautiful women and unreachable men set in an exotic location with a nod to the local culture.
In this novel that is exactly what you get.  Young Catherine, off on a gap year – or what passes for a gap year back in the 70s, meets and marries a dashing US naval officer and ends up in the married quarters in Hawaii.
Stifled by the other navy wives and their strict, conservative lives, Catherine seeks freedom by meeting the locals and learning a new skill – photography. 
It doesn't take long before she finds herself tempted by an enigmatic surfer.
This is the type of book you take with you on holidays – preferably in Hawaii.  You sit with it at the pool and while away a couple of hours while sipping on your fruit cocktail and gazing over your spray tan to the other beautiful people lounging in the sun.
You are wearing big sunglasses and probably a floppy straw sunhat.
It's not challenging but it is a pleasant enough way to spend some time.  
It's a bit like watching the Bold and the Beautiful I imagine.