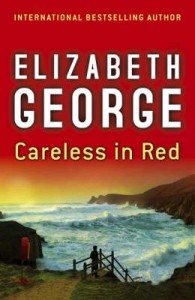 Here's the massive coincidence.
The last two books I've read have been The Islands by Di Morrissey and Careless in Red by Elizabeth George.
(I know I'm supposed to have been reading The White Tiger by Aravind Adiga – the Booker Prize-winning novel – but I just can't get into it)
Now on the face of it these two novels have nothing in common.  The Islands is soap opera in book form and Careless in Red is detective fiction.
I read The Islands first.  It was a review copy that came into the office and I was looking for some light reading for the holiday break. 
Anyway it was Christmas and I wanted to invite some good friends of ours – now divorced – to our Christmas dinner.  Which I did and it was all very nice.
The day after Boxing Day, the male half of this couple flew out to Hawaii to have a holiday with his girlfriend.   The Islands is about Hawaii.
Then I sat down and read Careless in Red. 
Now technically I shouldn't have been able to take this book out of the library.  It had been reserved and mistakenly put back on the shelf. 
The librarian had been giving me a lesson in self check out when it came up flagged as reserved which she over-rode I guess because I was a good student… or something.
Anyway I got the book with a "Please read it first" from the librarian (first of the seven I had taken out) and so dutifully I did so.
Get this.
Part of the action takes place in a small Cornish town with the same surname as the female half of this couple's boyfriend!  In fact he could even come from that village.
How spooky is that?!
I thought it was spooky.
And both the books had a surfing theme running through them.  What's up with that?
So to the review of Careless in Red by Elizabeth George.  
This is another Inspector Lynley novel and I love this series.  He's an upper class Earl who works for New Scotland Yard or did until his upper class pregnant wife was murdered randomly by a twelve year old boy.
To cope he takes himself off for a walk along the Cornish coast and finds the body of a young man at the foot of the cliff.
Of course he is dragged into the investigation along with the fabulous Barbara Havers, his former partner at the Met. (and by that of course I mean the Metropolitan Police not the Metropolitan Opera)
It's full of intrigue and inuendo.  Red herrings and plot twists, all set on the wild Cornish coastline.
I imagined Echo Beach style surf shops, Irish cliffs (okay I know they are probably very different but they are the ones I imagined) and plump, tasty Cornish pasties.
I always enjoy Elizabeth George's books and this one didn't disappoint.  She's like a modern day Agatha Christie but her novels are a good deal longer.
And I like a good doorstop of a mystery.