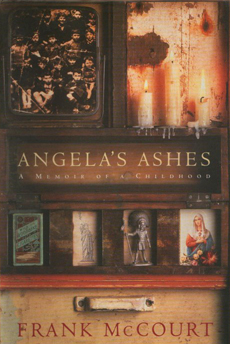 Angela's Ashes won the Pulitzer Prize in 1997. Everybody was talking about it that year and mostly they were saying how sad it was. Oh brilliantly written dahling but oh soooo sad.
Maybe because of that and also maybe because I'm not into autobiographies I decided Frank McCourt's memoir of his childhood was a book I could safely miss.
Last week, waiting for my Bloggers Book Club novel to arrive, I scanned Groover's collection of bookclub books and saw it on the shelf. I've been thinking about Ireland lately because of Ken and because I've recently re-discovered my Ireland blog and photos and so thought maybe it's time.
I. Loved. It.
What a brilliant book. Yes it is sad. The poverty of his Irish Catholic childhood in Limerick unbelievable. Grinding. Unimaginable.
But it is also inspirational. You know by the very fact it's a memoir, an autobiography not a biography, that he survives and makes a success of his life. His indomitable spirit is a light in the grimy lanes of Limerick.
His writing is wistful, funny, sad, shocking and most of all engaging. So while the subject is sad the book overall is uplifting.
I was looking for the book cover image and I came across the film on imdb.com. What amused me were the key words:
Masturbation | Urination Scene | Eclipse | Sadistic Teacher | Social Commentary
There are a lot more but those five were the plot keywords mentioned first.
I might have to go out and see if I can find the dvd… was it any good?
Book reviews all readers
Judd Brothers
Interview with Frank McCourt