What does a life look like broken up into a thousand pieces?
Much like this blog I suspect. 🙂
I began writing online in 2002. I couldn't design my own websites at work – everything was template driven – and I'd been on webmonkey and learned html so I wanted to see if I could do it.
The first thing to do was come up with a sexy domain name. It was going to be a family website so I wanted something that represented us without using our real names. I started playing with the meanings of our names and ended up with redsultana.
This is what redsultana.com looked like back then: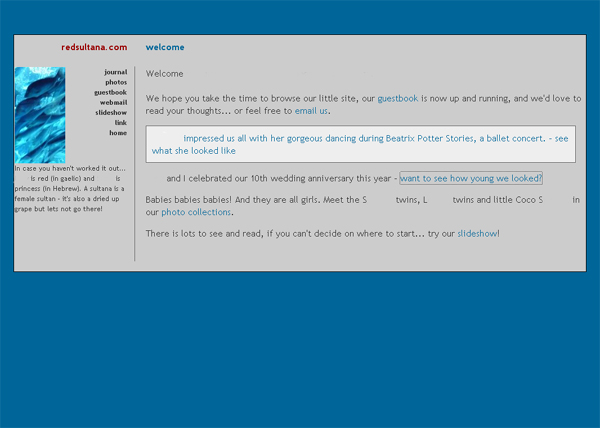 It wasn't until 2004 when I met James that I started using a blogging platform – Blogger.
Here's one of my favourite posts from August 2004 – my first month using "proper" blogware. We'd seen this Hong Kong politician on the telly and we still quote her today. I wonder where she is now?
In 2005 we took some time off and spent part of that time in Italy. Oh Italy! It was fantastic. I want to live there.
In 2006 I turned 40. That still sounds old to me. 40 might be the new 30 but I still needed to get glasses.
And Groover won a trip to Ireland to watch the Wallabies get thrashed by the Irish at Landsdowne Road.
In 2007, I moved my blog to WordPress and opened up to the blogging world. I've met some great people both online and off. And I've enjoyed sharing my photos and observations and endless book reviews with you. Your comments so often make me laugh! (As does this photo of my two at Ennuin Station.)
And so we come to 2008. Where I met even more bloggers through Aussie Bloggers – even face to face.
Will I stop blogging? I can't see it myself. I enjoy the daily discipline of putting my thoughts in some kind of order – what would I do with all those things that rush about my head at night if I had no one to tell them to?
So thank you. Thank you for being part of my life through this blog – from the beginning or from today – it's lovely to have you drop in. And you know how I feel about the drop in!
To celebrate this milestone I've saved up 1000 entrecard credits which I'd like to share with you. Simply say hi in comments to be in the running and I'll draw someone's name out of the hat. It might be yours.
For those of you who don't have a blog – say hi anyway. 🙂
To the next 1000 and beyond!
*chinks glass*
Damn it… really must watch that binge drinking…