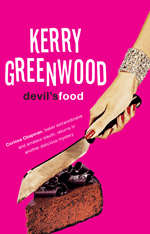 This is the second Corinna Chapman novel of Kerry Greenwood's that I've read. And, like the first, Earthly Delights, I was once again amused by this unlikely heroine. An overweight baker in downtown Melbourne.
She's a feisty chick this Corinna, not afraid to wear a corset nor have friends that perhaps the more conservative of us might shun. She's also good natured, loyal, passionate and a damn fine cook and you can't help but like her.
There are lots of local references in this series, some of which I wondered if overseas readers might miss. I'm sure I missed a lot of the Melbourne ones. She mentions "the current prime minister" and "John Howard", a man fast fading into history.
I wonder how these books will stand the test of time?
Luckily for me, I live in the here and now and in this cold weather – made even colder by the current gas crisis – snuggling down under two duvets in my flannelette – I can think of nothing better than some light detective fiction and a cup of tea. Black, no sugar, English Breakfast by preference.