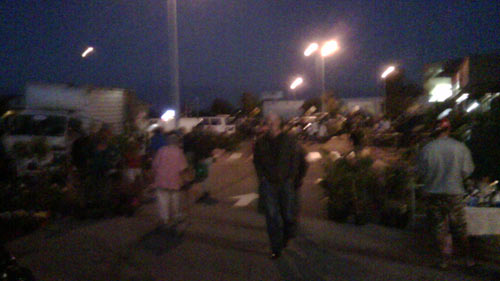 I'm tired.
My eyes are barely open.  They feel sandy.  And I feel quite lethargic, reclining as I am my head at an odd angle to gain the cushion, my body twisted so I can keep the laptop plugged in and lie down at the same time.  This can't be good for my spine.
I shuffle along the couch to try and find  a more comfortable space.  Luckily my fingers know the keys but still I have to stop and correct now and then.
Despite a rather stressed work environment at the moment I've had a surprisingly relaxed weekend.
Friday night I played bridge with Arty.  She's a great player.  She knows the conventions backwards and understands cards.  Even so we only came fourth.  Club bridge is somewhat unpredictable.  Afterwards we discussed the hands – we're playing in the Women's Selection next week.  She told me to study hard!
The next morning I got up latish and went for a coffee which turned into lunch with Jif, another bridge pal who I used to work with.  He is a font of all bridge knowledge and gossip and we had a lovely lunch down at Barista which, although I thought over-priced did a very nice Greek pastry thing. (Don't you love my technical terms)
In the afternoon I went to Knitwit to see if they hold stretch sewing classes.  I'm sure they do but they weren't open.  Sigh.  Don't they know that some sewing types work?!  Saturday morning is such a drag to have to spend shopping.
Hmm speaking of shopping I've checked out the new Claremont Shopping Centre and found it a bit boring.  I know all the shops aren't in yet but there is not enough there for me to make the effort yet.  And anyway big shopping centres are overwhelming.
Last night we went to see Shane Warne the Musical at the Regal Theatre.  It was opening night and a carpet of fake grass and a white picket fence led the way in. 
All the regular freeloaders were there and it was a good fun night.
I loved the different musical styles – from rap to gospel.  In that way it was similar to Keating! which you know I loved.
The story of Shane Warne – the bad boy cricket genius – has a bit to work with.  I'm not sure the straight autobiographical chronology worked for me so much – the AIS stuff was a bit creepy – but overall it was a blast.
The classic moments for me include the cigarette scene – worth the price of admission just for that.  I also liked the Simone meeting section and the wedding dance, the sledging song (wouldn't mind reading the lyrics of that one) and the last song by Simone is also poignant.
Eddie Perfect is indeed perfect as Warney – and as he also wrote all the lyrics, quite impressive.
I would like to see the libretto though as I fear I missed a lot of the humour because I missed some of the lyrics.
While you don't need to know a lot about cricket to enjoy this musical I recommend familarising yourself with The Ball.  You can see a video here and the wiki explanation is very good too.
This morning we got up early – 6.30 AM to trek out to Melville for the carpark markets.
It was dark when we arrived, just getting light and already the place was busy with people.  A great place to buy plants I think and there were a few other bits and pieces of interest – a nice sewing machine I was tempted by  – a few clothing items – but I managed not to buy anything – quite easy with Groover walking near me – he is quite the handbrake on spending that one!
I went back to bed when we got home – it is Sunday right?
Although I did manage to get out my convention book to read through some of the bits and pieces I'm playing with Arty on Thursday.
Big bridge week coming up… Monday night with Gij, then I fly to Kalgoorlie for three days, back for Thursday night with Arty, Friday night at home (I think we're cleaning the house… sigh) and then ALL weekend playing with Arty, and then Monday night again with Gij.
Insane.  It's feast or famine.  And online I've found some bridge tweeters.  Happy day.