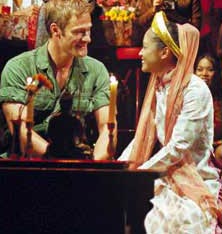 First of all can I say that if you love this musical already – you will enjoy the production at the Burswood.  The staging is great, the helicopter scene clever, the cast can sing and their group dancing is spot on.  The orchestra wonderful.  It's a big production and it's done well.
If you are not the biggest of musical fans…
And don't get me wrong – I love a good musical – have even in my time bought soundtracks.  I love for example Les Miserables, Chess and of course more recently Keating!.  I'm a big fan of the classics too and have even enjoyed Andrew Lloyd Webber productions in the past.  And sign me up for another look at Mamma Mia and We Will Rock You.
But.  I didn't enjoy Miss Saigon.
Now I will say I was tired.  It had been a busy day at work and I was rushed to get there.  And I was sitting next to Groover – not the biggest fan of musical theatre.
But still.
I was over it by the second song.  The problem with this musical is that there are too many solos and duets.  The love affair between Chris (who calls their hero Chris?  Sorry to all the Chrises out there but wtf?) and Kim is tender and sweet but do we really need four aching love songs with loads of kissing inbetween every line?
Get on with it already!
The other problem is that there are very few light moments in the script so it is one degrading, depressing scene after the next.  This means the big show stopper numbers like American Dream in the second act seem contrived, as if the producer says "you know what we need here?  how about a big chorus line…"
Then lets add some worthy notes and put a montage of abandoned orphans on – sure yes, worthy, their fate awful – but I'm in my seat for musical theatre people!
I said at interval to Groover – this music reminds me of Les Miserables – and no wonder.  I've since discovered both musicals were written by the same team.  At least Les Mis had a stirring anthem and a couple of funny songs – Master of the house for example.
What is it with prostitutes and these writers??
Anyway I sat through it – although tempted to leave at half time.
Sorry to be such a bah humbug but it just didn't engage me.  You can't please all of the people all of the time I guess.