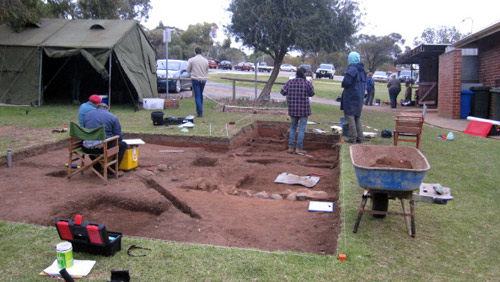 I drove up to Toodyay today to stop in at the archeological dig which is part of the project that we started in York in January.
It was soooo cold. 
Must have been about 15 degrees maybe less.
Arriving on the last day I got to see the full extent of the excavations, and what I love about digs is that they are JUST LIKE Time Team… you know, that show on ABC1… that's not on anymore…
They had found seven buildings on the 45 acre site including the barracks, holding cells, kitchen and privy, the commissariat and the hospital.
One of the convict era buildings was the barracks which they found under the car park of the Toodyay Shire CEO.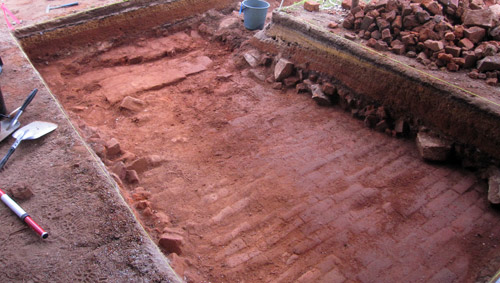 After it was a barracks, it became a schoolroom and they found graphite pencils and slates that would have been used at the time.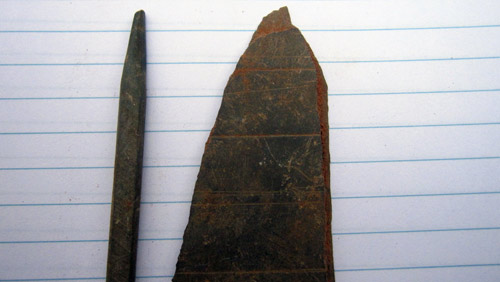 How cool is that?
The building was knocked over and the courthouse, now shire offices were built over the top.
In the mid 1800s the area was a hive of convict activity and this is the first time that those buildings have been excavated.
Needless to say the shire is very excited.
The CEO, who is potentially losing his carport, wants to try and keep them preserved but exposed so that people can appreciate their history.
And I, as an archeological junkie, appreciate that sentiment.
Oh I hope they don't have to fill them there holes.
They have permission to keep digging for another week and I can't wait to see what they discover.
I was very flattered to be invited back for a day's digging.
So I'm looking out my little trowel, my steel capped boots, and my puffy jacket (hey it's cold), and hopefully I'll get to spend a weekend day up at Toodyay up to my ears in dirt, glorious dirt!