I think I might, just might, be becoming obsessed by clay pipes.
Don't worry I'm sure it will pass… sometime.
Remember my clay pipe?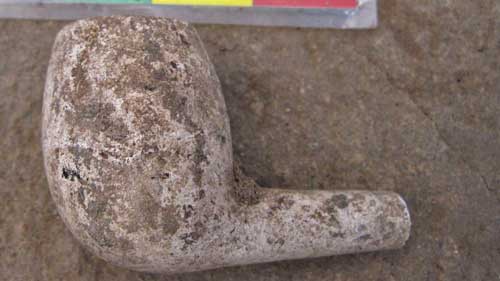 Here's a view from side on to help jog your memory.
Well I was curious about the markings…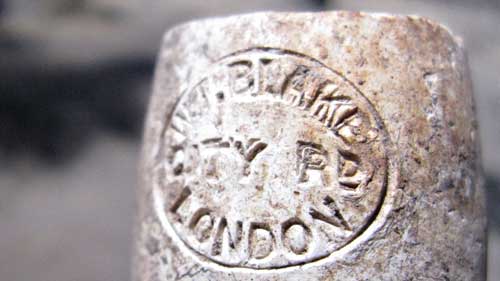 After all, if I knew a bit more about the maker, maybe we could date the pipe.
Could it be that the smoker of this pipe was a convict?
A little net research brought me to the Museum of London clay pipe website, where a great number of clay pipe manufacturers are listed with their marks.
Unfortunately W.T. Blake was not among them.
Not to be daunted by this little glitch I emailed them and the next day a lovely woman called Jacqui replied with this information:
The pipe is a type 30 in Atkinson and Oswald's London type-series (1969), which is broadly dated to c 185-1910. But William Thomas Blake is recorded in trade directories as a pipemaker in City Road between 1873 and 1898. This is rather later than your stratigraphy seems to suggest of course. There is also a reference in the directories to pipe makers Reynolds and Blake in City Road 1867-9. This is very likely the same Blake working in partnership before establishing himself in business on his own. However, if the pipe was made by the earlier partnership it would have been marked accordingly and not as you have it. So I think the example you found must date after 1873, or at least between 1869 and 1873.
The dates are not as definitive as I was hoping for.
But at least it is still possible for it to be a convict pipe.
The depot was closed down in 1875-6 (the Colonial Convict Department disbanded in 1876).
The building itself was knocked down in 1895.
Tomorrow I'm heading back to the wheatbelt – this time to Geraldton via Northam, Toodyay, Dalwallinu and Morowa.
It should be an interesting trip.