Isn't it beautiful?
The letters you can see are V-I-S so we think it's a Ben Nevis pipe made somewhere in Glasgow.
Ben Nevis is the highest mountain in the UK and a lot of clay pipes came from Scotland.
Clay pipes were the disposable cigarette of the 1800s.
The thin hole in the stem is to cool the smoke from the bowl.
Everyone had found a pipe and I was feeling left out frankly at dig central in York.
Yes, I'm on my dig and LOVING it.
Yes, it's hot, dusty, dirty work but it's such fun.
You scrape the soil with your tiny trowel and then you hit something interesting.
So you find a brush – a paintbrush maybe – and sweep of the soil until you reveal your artifact.
Sometimes – yawn – it's a bit of glass or a bone – sometimes it's a clay pipe, or a whole bottle.
I was very excited with a blue bottle that I found on Australia Day.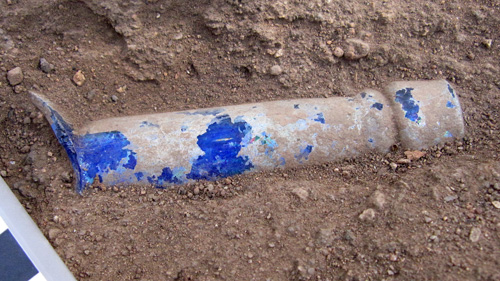 But then I found foundation stones!
Bottles… meh.
We found the corner of the barracks where the convicts would have been housed between 1851 and 1875.
It was very very cool.
I know what you are thinking.
That I'm sounding more like a geek than ever.
Ah well… live with it.
It's now day four of my first ever Archeological dig and I'm in love with digging and all things buried.
So yes… now I'm a dirt geek.