You remember how the other day I was going on about how I needed that Indian Ocean bite to "wake me up"?
I am officially awake.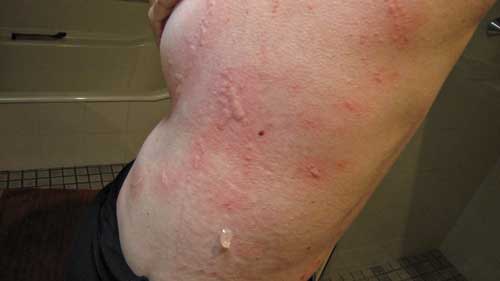 I saw a stinger (small translucent square shaped jellyfish) when I was about waist deep, but Groover was already at the pylon and I figured that I had as good a chance as any to not get stung.
Doh!
"I've been stung!", I wailed as I drifted around the back of the pylon.
"Oh don't be daft – it's psychosomatic", said Groover, using a very long word for 8 o'clock in the morning.
It didn't hurt that much.
A vague tingling and I knew it had somehow swum down into my swimsuit.
(goodness knows how – there isn't even enough room for me!)
It was a short swim.
As Groover said this morning as I was trying to convince him to come with me:  "What is the point?  It's not like you're working out!"
They are always short swims.
For one thing – it is FREEZING.
For another – I'm not that fond of swimming.
And now – there be stingers!
But that is not the point.
The point is: if I'm staying at home for the holidays I need to at least feel I'm on vacation.
Anyway.
Despite the copious amounts of vinegar applied, today I just feel stung.
And I've also just found out my sister and her family can't make it home for Christmas after all.
Stung again.