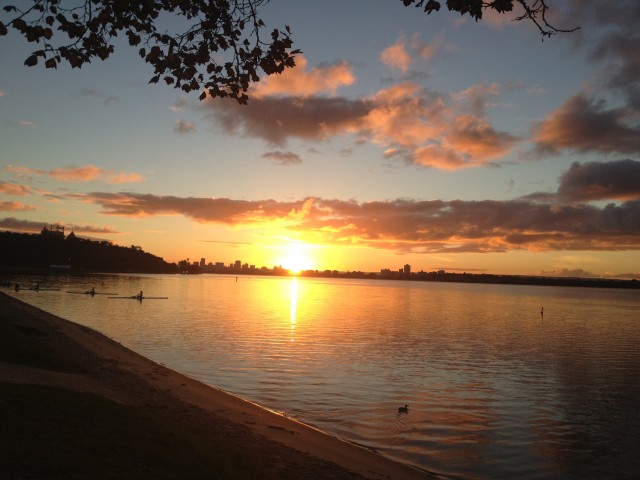 Ahhhhh see this is why I get up early in the morning on a Saturday to go rowing.
So beautiful.
And today I rode my bike. Well Evan's bike but he's got lots and the gears aren't so great on this one so he doesn't miss it (I hope).
I got up at 6am. And left the house around 6.15 with my brand new Moon lights on and the wind on my face.
Well there wasn't much wind, it was the speed of my pedalling.
(that was a little joke)
It took me about 35 minutes to get to the UWA Boatshed and I was surprised to see so many cars in the carpark.
Damn it! I thought I'd missed rowing altogether. That everyone had showed up and gone out, locking the shed behind them.
I checked my phone and it was 6.50. Yay. So I took the shot above.
Coming back was a bit more of a struggle.
Scary too. People in their big 4WDs and trucks!!! A truck beeped at me as I wobbled up the last hill and scared me into wobbling more. Yikes.
Also I was tired.
But I imagined my cut body. Fit from riding to rowing and rowing and riding from rowing. This will get easier each time I do it I said to myself as I reached the crest of the last hill.
Anyway this is my plan – and I'm hoping by declaring my hand on the interwebs Ii will be honour bound to follow true.
(even though this has never worked in the past… you never know)
So I row 3 or 4 times a week.
I will ride to rowing 1 or 2 times a week.
And on the days inbetween I'm going to make sure I at least do one ten-minute video from PopSugar.
Now how hard can that be?
*Famous last words*