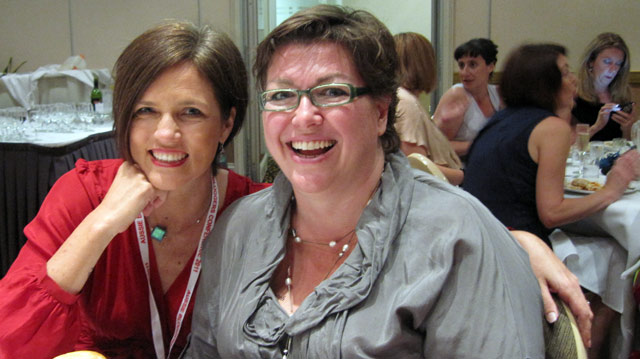 So this is me and allconsuming at the dinner dance which followed the first ever Australian Bloggers Conference.
Note the tweeter in the background.
OMG everyone was tweeting.
Except me because my stupid phone stupidly ran out of batteries and then I took it upstairs to charge but stupidly forgot that when you take your passcard key out of the little slot all the electricity is turned off and so the phone ran even further out of batteries. Belief!
Anyway, I tried tweeting during the conference discussions and it was too distracting… so I stopped and then I got told off by Kelley (so glad to have met you even though you scolded me for not replying to your tweets).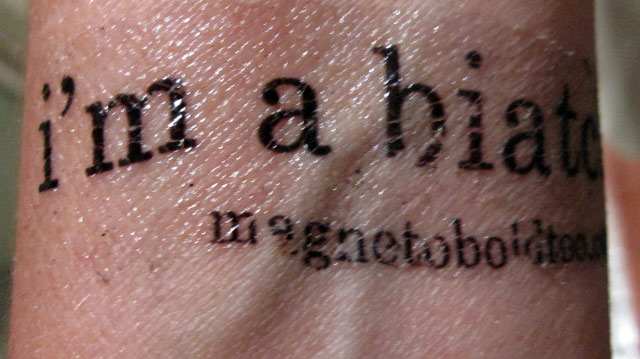 What a biatch.
But I was glad I stopped because I was missing out on some gems because I was too busy coming up with witty comments or trying to, and reading the chatter.
So what did I learn?
Well in the social media part I quite liked the "Twitter Formula" for successful twittering:
20% me
30% flogging your blog
50% retweeting and interesting links
That sounds quite good don't you think?
Because what I'm liking more and more about twitter is the personal recommendations for other good stuff online… you expect a bit of self-recommendation so that's okay and I do love a little small talk but a mix is best I think.
And I am now a twitter whore!
I blame Deeleea.
Which is fair because she blames me for getting up to dance the nutbush when she CLEARLY wanted to.
'Sif she wanted to just sit at the table, drink wine and chat. 🙂
Anyway in the space of 24 hours I found myself tweeting all sorts of rubbish:  The price of scrambled eggs, the navigation fail on the ferry, the wet wet weather… why does it always come down to weather with me?
And I was checking in to #ausblogcon2011 every few minutes checking in on my new bloggy friends.
Today I've noticed that the behaviour has continued.
Facebook?
Oh yeah I remember you.
One of the things to come out of the Social Media section was the thought that creating a page for your blog was better than using your personal profile.
And if you're using it to add value to your blog well maybe it is.
Do I want to go there?
Maybe. Once the twittermoon is over… *cringes at dreadful mash-up of Twitter and Honeymoon*
So I learned a few things, was inspired to blog some more, and met some fantastic people.
People I hope to keep up with in the future both in person and of course on Twitter.
Hey I met River!  A regular commenter on this blog!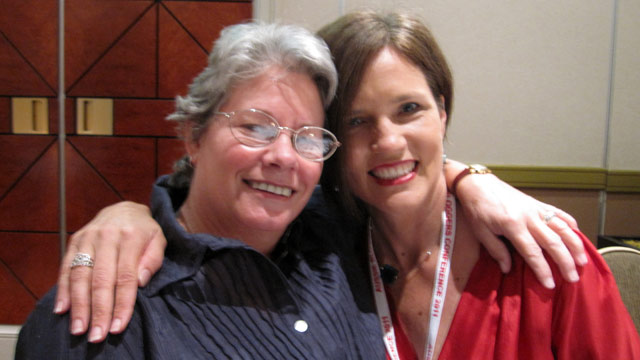 And shout outs to Kelly who sat next to me and had magnetic cards (very sexy), Ally who came up and said hi (yay!) and Rebecca who convinced me to have one too many cocktails at the open bar welcome drinkies. But weren't they delicious!
There is a full list of attendees here.
I can also see myself going to the 2012 conference.
I think the organisers have learned a lot.
Personally, I'd like to see sessions on "form versus content"…  maybe a debate?, "must have widgets", "effective graphics/banners/images" to name a few.
It would be good to get some concurrent sessions looking at various blogging platforms – blogger, wordpress etc so you can ask questions,  maybe get some tips and tricks, news, how to get the best out of your chosen platform.
Maybe something on cool apps – for both iphone and android.
Maybe there could be breakout socialising sessions for various blogging niches – mummy bloggers, personal bloggers, craft bloggers, dads, food, reviews, fashion – that might also encourage a greater range of bloggers to attend.
Yep I reckon you need two days.
The dinner dance was a revelation.
I thought goodness, whose going to want to go to a practically 100% female dinner dance?
But it was so nice to dress up and chat with all these lovely women.
And to be honest, you bloody blokes don't dance anyway.
And we did dress up.
Which goes to show that we don't dress for men.
I wonder if next year there'll be a more even gender balance?
Gawd I've waffled on haven't I?
Well one last observation for now: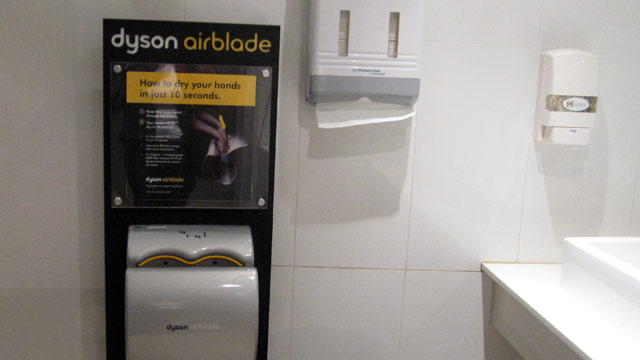 Have you had a go drying your hands in one of these?
I'm not sure they are as effective as the slogan suggests but they are SUCH good fun!
Tragically your correspondent was seen wetting her hands just so she could dry them again.
So yay.
Great conference, great city, great stories and great fun.
Read more here from Aussie Bloggers
[note that the makers of the hand-dryer did sponsor the dinner dance but this mention is not sponsored at all. I don't have one of their vacuum cleaners and am very happy with the one I have… especially as Groover does the vacuuming anyway]