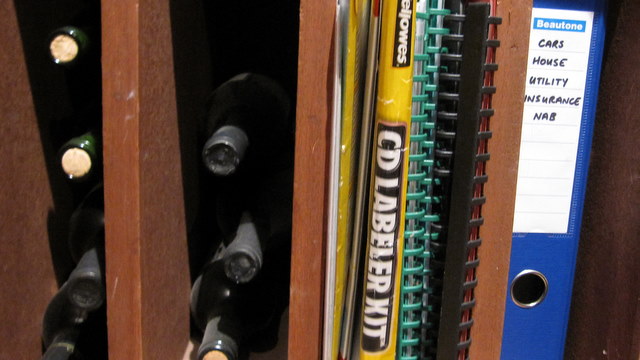 Flights – check
Hotel booking – check
Blog cards?  Um… not check
Blog cards were not on my radar for things to take to the Aussie Bloggers Conference in Sydney this weekend (OMG only a few days away!!) so when I read Tiff's latest post I almost fell off my swivel chair.
What a good idea.
But I'm heading to Bunbury for two days for work and then I'm off to Sydney so when can I get blog cards made?!
Then I remembered a packet of business card printy thingys that I bought a hundred years ago.
Could I find them amongst all the bills and wine in my office/wine storage unit?
Of course I could.
But then…
What to write?
Do I just write my handle?  Or my real name? Or both?
Facebook profile?
Twitter?
When did life get so complicated??
At least I have got some new boots to wear and I hear the weather will be cool.
Loving the idea of rain.
What a novelty!
Update: Pretty much FAIL. Ah well. Who needs blog cards anyway – you know who I am.
Oh and if you want to see who is coming along to the conference on Saturday – check out the list below:
We are going! Are you?
Brenda at MummyTime The Mother Media
Veronica at Sleepless Nights, Veronica Foale, Veronica does Food
Nicole at Planning with Kids
Tina at Tina Gray {dot} Me
Karen at Miscellaneous Mum
Kate at Picklebums
Caveat Calcei
Zoey at Good Goog
Sarah at Ah, the possibilities!
Woogsworld
Nellbe at Nellbe's Gluten Free Kitchen
Marita at Stuff with Thing
Sam at Learn. Create. Do
Toushka at Ramblings from Toushka
Ally at Acting like a Mama
Bells at Bellsknits
The Not Drowning Mother (The NDM)
Cath at Squiggle Mum
Kim at Frog Ponds Rock
Tiff at My Three Ring Circus
Susan at Mummy Daze
Beth at Baby Mac
Mama K at Levis Genes
Lucy at Diminishing Lucy
Susan at Reading Upside Down
Meredith at Oh, the Thinks You Can Think
Corinne at A Day in the Life
Shae at Yay for Home
Yvette at Happy Child
Cooking with too much salt
Rebecca at Crazy Lady Ramblings
Nikki at Styling You
Christie at Childhood 101
Holly at Good Golly Miss Holly!
Bronnie at Maid In Australia
Belinda at Save Mum's Sanity
Amanda at HomeAge
Sarah at Just Me
Frances at CoAstY's Journal
Megan at Mothers Matter
Liss at Frills in The Hills
Michelle at Farmers Wifey
Marilyn at Live First, Write Later
Allison at Life In A Pink Fibro
Multiple Mum at And Then There Were Four
Bern at So Now What?
Naomi at Under The Yardarm
Kakka at Menopausal Mumma
Princess TrueLove at My Kid Is Too Funny
Fox In Flats
Mum/Toddler/Babe
Megan at Writing Out Loud
Naomi at Seven Cherubs
A Cajun Down Under
Kim at allconsuming
Sunny Side Up
Jacki at More Than A Mummy
Ann at Likes To Write
Lori at Random Ramblings of a SAHM
Jodie at Mummy Mayhem
River at Drifting Through Life
Aimee at The Best Boy in the Whole Wide World
Katrina at The Organised Housewife
Danimezza at Danimezza.com
Peskypixies at Peskypixie's Blog
Ms Dovic at Small acts of kindness
Sarah at The Super Whites
Katie at Colour Me Katie
CelloBella at Redsultana
Melbourne Mumma
Anne at Forks In The Road
Bakchos at Blak and Black
Aspiring Millionaire
Dana at Hunter Organics
Michelle at Bump
Jen at Jemikaan
Dorothy at Singular Insanity
Louisa at Everything Is Edible
Cat at Wouldn't It Be Loverly
Mumstrosity at Mumstrosity
Donna at Nappy Daze
Deb at Science @ Home
Melinda at Stop at the Kerb
Corrie at Retro Mummy
Relish, My Relish
Kimberley at Pop Couture
Candy at Candy's Family
Suzanne at Quilt Sew Scrap
Sophie at Red Dust Love
Eden at Edenland
Catch The Kids
Inner Pickle
Julie at Natural Transition
DaniV at Health & Fitness Mum
Raising Ellyanna
Cristina Romeo
Alisi's Mummy
Amanda at Calico and Co
SawHole
The best Of All Possible Worlds
Mum's Gone 2 Aus
Carly at