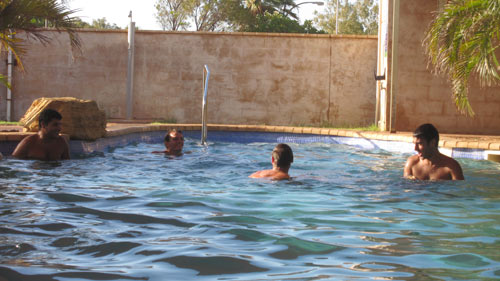 No.  These fellows in the pool are not thespians.
Well… they might be… but more likely they are miners.
I'm in Karratha and that is the pool at the caravan park where I'm staying.
And yes.  I did slip into the water in my bikini.
I stayed up my end though. 🙂
Last night I was in Frenantle at the Victoria Hall on stage.
Yes it was my first Theatresports performance.
Groover was on first and you know what?  He is a natural.
First up he led his team in a children's television style impro – very funny.
Then they sang a tribute song – a la "We Are The World" – to the audience suggestion of the cause of flatulent children.
"The Wind in You" was fantastic.
I was offstage wetting my pants laughing.
But not for long because then it was my turn to be on stage.
I was lucky to be paired with a seasoned theatresports pro and a drama teacher and they were brilliant.
It was such fun I wanted to keep going.
After the interval we were heading back upstairs for the second half.
Groover had a glass of wine and when we heard a woman say "Excuse me…" we both thought she was going to tell him off for taking it into the theatre.
But no.
She was trying to get his attention to encourage him to audition for Arsenic and Old Lace.
"Can you do accents?"
Can he do accents?  Of course.
How groovy is that!  After only two performances in his life!
We went upstairs to watch the second half – all the really experienced players do the second half and it is awesome – and Groover had such a big grin on his face.
If you live in Perth and want a fun night out – trust me the second half is hilarious – come down to the Victoria Hall – performance starts at 6pm and it is all over by eight.
Meantime I'm in sunny Karrachi (as the locals call it).
I've played some social tennis tonight and tomorrow night we're heading out to Dampier for some Chinese food.
Sounds like a plan to me.