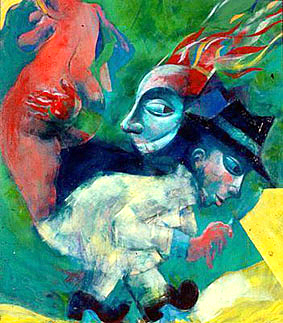 My brother's painting "The Investigator" has been entered on the UK Saatchi website.
If by an extremely long shot he is this week's favourite it gets hung in the Saachi gallery in London.
If not, just getting him in the favourites means more people are likely to see his work.
Anyone can vote and it's just a simple 1-10 star rating (10 is the highest)… so if you feel like it …
(What's the point of having a blog if you can't support your near and dear? Go Mike!)
And this is his website – where you'll get details of his upcoming exhibitions in Melbourne and Sydney.