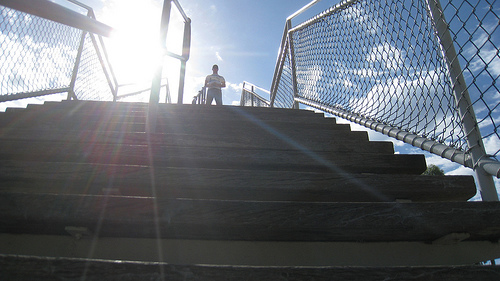 This is a photo of Groover at the top of the overbridge that we walk on during our weekend's walk.  He nearly always beats me to the top.
These days I find it hard to find the time to exercise.
Yes I know it's an excuse.
Yes I know that if I really prioritised properly I would find the time.
The fact is my life is full and exercise comes a long way below family time, work, sewing, bridge, twittering, blogging, reading… just about anything in fact you care to mention.
I'm playing in two competitions at the moment – State Swiss Pairs – first night last night = epic FAIL, and the Interstate Women's Selection.
Well I'm practicing for the latter.
I'm playing with two different partners with two quite different styles so it is quite interesting.  One seems as steady as a rock, but can be quite intuitive with her bidding – in a good way, the other follows the rules strictly.
As I've also been described as intuitive (but not in a good way), it makes for erratic scoring. 🙂
If only work didn't get quite so in the way…
As far as sewing goes, I've made Dippity an outrageously short bubble skirt, which she of course wears ALL the time because it is so revealing – and not with leggings as I suggested.
And I ran up a pair of black pants to wear with the black and white overskirt Mum picked up at Freo Markets.  They were surprisingly simple to make.
Reading – well I'm taking an age to read the library books I've got out and have already had to go back and renew them.
Work is insane at the moment – I seem to be filling in for several people all at the same time – and I am so over fire season!
Family – yes they still seem to be occupying the same house… Hugamuga gets his lower braces tomorrow…
And so to exercise. LOL.
At least giving up alcohol seems to be helping control the weight.  17 days and going strong.  You never know I might even make it to the end of the month.
The other thing I'm trying this month – in the spirit of open-mindedness – is Bettina Arndt's just say yes policy in the bedroom.
It raised my hackles when I first heard her talk about it.  It struck me as a blow for feminism and the rights of a woman to say no.
But.
But.
Okay perhaps I'm not entirely living without exercise at the moment.