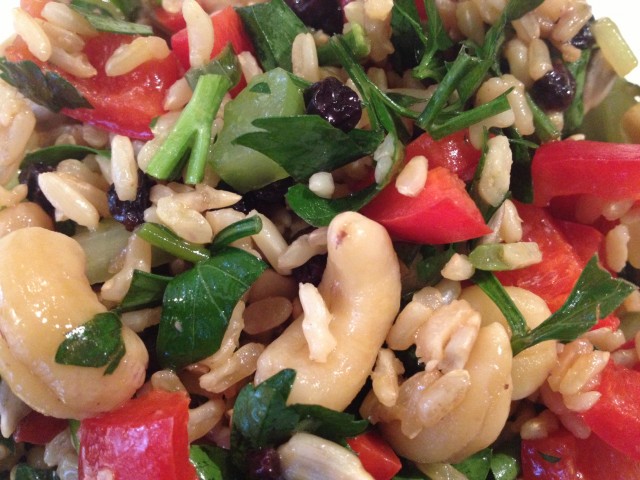 First of all, can I just say that by following this recipe you will enjoy the best rice salad you've ever tasted.
Behold!
Justine's Rice Salad
1 cup brown rice (that's one cup uncooked but obviously you cook it, then let cool)
6 spring onions
1 capsicum, chopped
1/2 cup of cashews (I am generous with my half a cup)
1/4 to 1/2 cup of currents (I usually go the half cup)
1/2 cup sunflower seeds
1 cup celery
big bunch of flat leaf parsley
DRESSING
1 tablespoon soy sauce
1/2 cup olive oil (or less)
1/2 cup lemon juice
1 clove garlic crushed
We had this salad with The Best Beef Casserole last night and they work well as a combination.
Both taste great as leftovers.
So what news?
Well the boy is in Seattle to go to a gaming championship.
The girl is back in school, play a success, studying hard.
Groover is doing manly things like working.
And I am still obsessed by rowing – getting on the water as much as I can.
I fear I have become very dull indeed.
And the not drinking is probably not helping.
I'm doing Dry July this month.
I thought it would be harder.  There were a few moments when I thought I really wanted a glass of cold sav blanc, but water in my wine glass seemed to stave that off.
And you never know, a month off alcohol could be just what I need to cut back long term.
I have been waking up much earlier and much easier.
Although that could also be my rowing obsession.