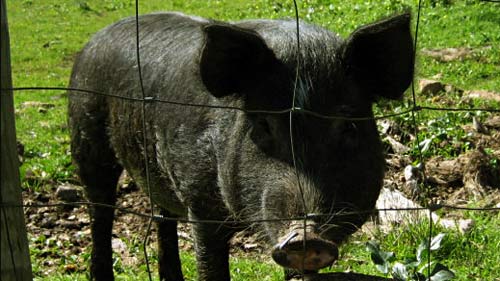 See… now the logo makes sense!
I don't usually do restaurant reviews on this blog but Friday night we went to Pata Negra, the new Tapas bar open on Stirling Highway… opposite my fave Vietnamese restaurant TQR.
It was fantastic.
The food was ALL good.
Of course I am rubbish when it comes to Tapas.
There are simply too many choices… hey I have trouble enough trying to decide between still and sparkling water.
But I have a secret Spanishy-bits weapon.
Groover.
He is GREAT at ordering Tapas. Who knew?
We had some amazing Iberico ham – melt in the mouth – and you have to have it, after all the restaurant is named after it.
We had olives, mushrooms, asparagus with walnuts, mountain bread and Tsziki dip, eggplant fritters and to finish pork belly.
If I go back I'll be ordering the eggplant fritters and probably the asparagus and definitely the pork belly.
OMG it was sublime.
Other reviews:  Abstract Gourmet, Gourmet Traveller, AceHighWine