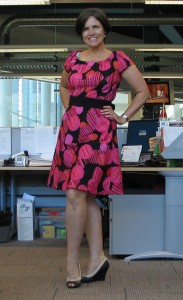 One of the most famous images of Lady Di – before she married Chuck – was the picture of her outside the daycare centre with the see-through skirt. Remember that?
Well I discovered that when I walk in sunlight the same thing happens to my dress.
Yes that dress in the photo.
I made it over the Christmas break and mostly I'm quite happy with it, you know apart from the see-through bit.
So I've decided to line the skirt with black fabric and also lengthen it by about two inches so it sits on the knee because for me… it's also a tad too short.
Sorry Ken, told you you might be in for a disappointment. 🙂
Ahhhh the end of 2008.  I go into the new year sitting by a backyard pool, eating and drinking with friends, followed by Guitar Hero World Tour.
Rock on 2009!