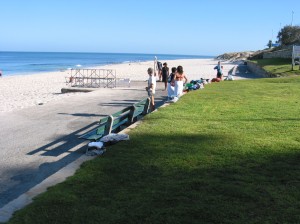 I like to go for a walk along Marine Parade, Cottesloe, one of Perth's premier beaches. 
The other week I got up early to go for said walk.  It was the day after an early Summer day and at 6.30 in the morning the air was clear with the promise of a lovely warm day.
It was a little breezy and as I walked through the suburb to the beachfront the pages of a copy of "The Financial Review" fluttered past me.
A suburb of affluence I thought as I bent to pick up the pages closest to me.
As I reached Marine Parade I saw that the rest of the paper was scattered along the dunes, caught in the tufty plants that hold the beach sand together along the pathway.
I started picking up pages and as I did several other early morning walkers joined in.
It was lovely, a real sense of "this is a beautiful place and we want to keep it that way".
We smiled at eachother as we put the papers in the bin.
I even found a bra caught in the bushes.
"How nice", I thought, "to live in a place where people care about their environment."
I continued my walk towards the main beach. 
I couldn't believe my eyes.
As far as they eye could see the beach, the grassy banks, the footpaths, were covered with rubbish.  The bins were overflowing.
It looked like a rubbish tip, with seagulls wheeling overhead.
People were picking their way through papers, drink bottles, plastics to the sea to swim.
It was appalling.  Disgusting. Embarrassing.
I walked along the beachfront for about 200 metres before turning back inland.
I couldn't bear to see the beach anymore.  I felt angry. Impotent.
Later that day the rangers came and raked the beach.
It had been a hot day.  Apparently 5000 people converged on Cottesloe that Sunday. 
But in my opinion that does not excuse the behaviour. 
People if it doesn't fit in the bin – TAKE IT WITH YOU.