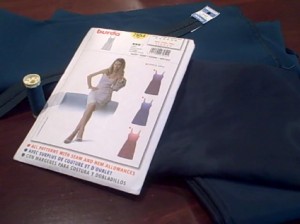 Inspired by Project Runway, a colleague and I are determined to learn how to sew and even – you know – make something.
So today I went to a fabric shop in Subiaco and picked out a pattern and with the help of the shop assistant got all the bits I need to make it (talent not included).
I found a whole list of patterns and this one was set aside as being a little more difficult for a rusty seamstress but hey what's life without a challenge eh?
I also chose a slightly stretchy fabric called… well it sounded a bit like Bangalore but I don't think that's it.  Stretch makes it a bit harder.
And after the fabric was cut I realised I also needed a lining fabric and that's not stretchy so it will probably all end in tears.
At the moment though I'm quite excited by the challenge  – I haven't sewn a dress from a pattern for years, probably since university, which would make it about 1987!
I'm the sort of person who loves to do the odd crafty thing but rarely stick at it.  So I have knitted one jumper, made two teddy bears, that sort of thing.  I also get bored easily so the task has to be challenging which is why it wasn't just a jumper but a jumper in a dinasaur pattern.
So far this project has cost me $56.
Not sure if it's the most economic way to get a new dress but we'll see.  🙂