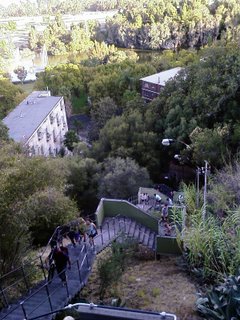 Here's mine:
Get up and join group for Jacob's Ladder experience – do JL 4 times and run up and down Mount St Hill twice.  Completed.
Stand in pool for 20 minutes to help my aching legs (apparently it's what you do).  Done.
Eat breakfast, fruit salad.  Done.
Blog.  Nearly complete.
Get hair dyed, temporary rinse.  9.45
Exercise my democratic right.  Vote!  I just LOVE elections.
Take sewing machine to repair shop.
Iron black trousers for tonight.
See if I can fit in a massage or tomorrow will be hell… depends on Mum.
Go to work.
How much fun is election night eh?  And tonight's looks to be a doozy.  
Centrebet last night had brought down the price of the Libs to $3.10 and the latest poll looks like the Libs by a landslide.  I tend to believe the punters though – they are after all putting their money where their mouth's at and with Labor at a dollar something… well? 
At any rate with all the changed boundaries and new seats and new independents it will be a fun night… and I get to work in the Tally Room!  W00t!  
In other news, standing on top of Jacob's Ladder today – pictured – I looked down at those white trees I was telling you about earlier – and you can really see where the birds have been – if you know what I mean.  I was heartened by another in our group saying that she went past them all the time too and thought they had died because of all the building dust.  
Jacob's Ladder meanwhile, I've learned refers to to a ladder to heaven, described in the Book of Genesis, which the biblical patriarch Jacob envisions during his flight from his brother Esau.  
I think it's more of a ladder to HELL!
OMG my legs are sore.
Anyhoo gotta go – hair appointment!
Hope you get your to do list done. 🙂