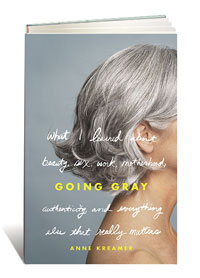 Anne Kreamer's exploration of one woman's discoveries about life when you go grey has touched a nerve with me. Sure she is ten years older than me but I have been throwing money at my badger stripe for years now – and sometimes I just wish I could shave my hair off and start again – grey but without the hassle of dying my hair – of hating my hair for 4 weeks out of every six. I simply can't be bothered getting it dyed any more than that.
But I'm that one of those strange women who would really not rather waste hours in a hair salon getting "pampered" – Oh it is SO boring! Totally not worth the two minutes of head massage after the shampoo.
Anyway back to the book. Some interesting observations.
Until I stopped colouring my hair, I'd never dared to calculate what it wsa costing me… Every three weeks for twenty four years added up to a total expenditure, not adjusted for inflation of US$65,000. Staggering.
Anne also discovered that she got more hits on a dating site with grey hair rather than her dyed brown hair – counter intuitive huh?
Perhaps her most useful observation is that if you change your hair colour – you need to look at your total look. Your make-up choices, your wardrobe.
So did she convince me?
Well kind of.
But Groover says he'll leave me if I go grey. He's just not ready. Oh and when I say grey – it is more likely to be white.
Do you dye your hair? When might you stop?