Where have I been?
Well its been busy and I have been a poor correspondent.
So this post is a catch up on stuff… and I won't get caught up in trying to put things in order… you'll just have to roll with me here.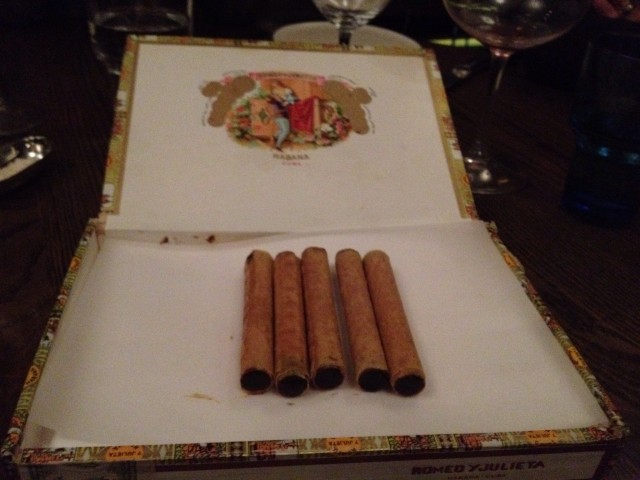 It's been a week since I caught up with my Brisbane colleagues and went out for an amazing meal at Cutler and Co in Melbourne.
The food was amazing… those little 'cigars' were filled with foie gras, which I know is not particularly good for the goose, but tastes amazing.
The cigars were one of the 'surprise' courses.
The wine was even better thanks to the superior judgement of the two in charge of the wine menu and I was quite glad that I didn't see the prices so that I could enjoy the wine without the taint of "OMFG How much???!!"  You know how it is.
It felt good to be in the Queensland gang and I am still chuffed I was included.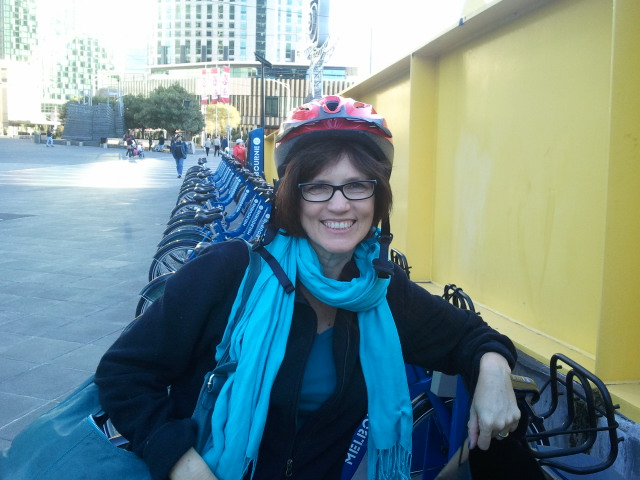 Okay this was a couple of weeks ago when Groover joined me in Melbs for a dirty weekend.
We went to Lygon St to catch up with The Cuteness (see below somewhere) and then picked up bikes at the share bike station, bought a couple of helmets at the local 711 for $5 each and cycled our way through the CBD back to the hotel.  Great fun and good value.
The helmets are good quality and we squeezed them into our hand luggage for use at home.
Not that we have bikes but you never know when they might come in handy.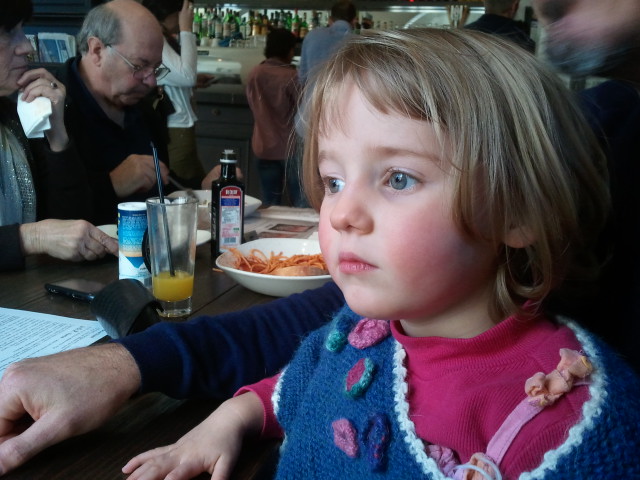 Enough said.
This is my niece.  She is very gorgeous.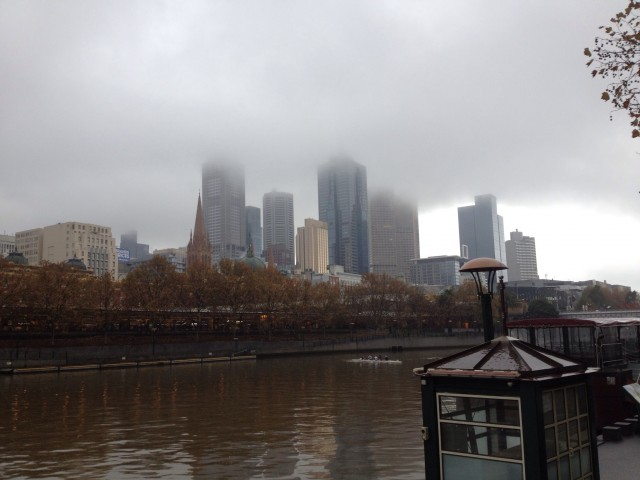 I hadn't seen foggy Melbourne before.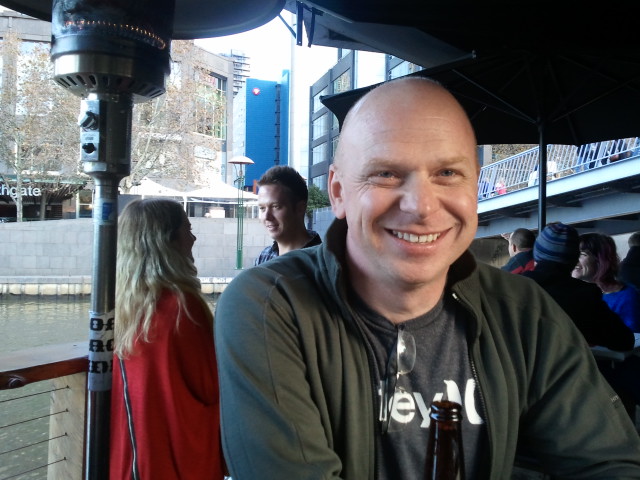 We went to this little bar which is on an island in the middle of the Yarra.  Very groovy.  They even serve mulled wine there sometimes.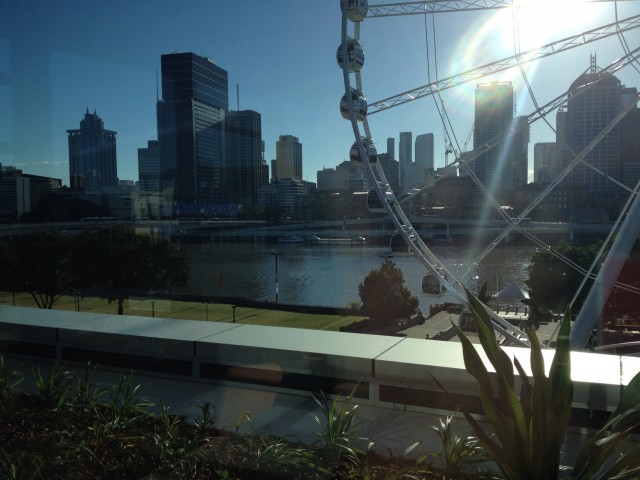 This is the week before in Brisbane.
The view from the training rooms at the office.
Great view huh?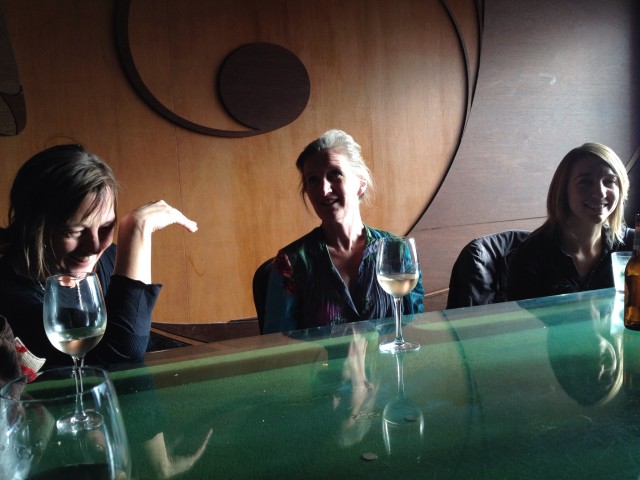 A week after the bike riding back in Perth, we go out with some friends to see Ira Glass and This American Life in the cinema.  If you missed it, you can hear what we saw here at This American Life.
It was a great show.
It underlined to me a couple of things… one:  how distracting the visual can be!  David Sedaris dressed up as a clown for his story and I don't remember the story AT ALL.
Two:  How telling stories without notes is SO MUCH BETTER than watching someone read.
I am going to aim for NO NOTES in future.
It is one of the very impressive things I've always noticed about Colin Barnett btw.  He must have to give hundreds of speeches and I've never seen him with notes.
And for those freaking out that I've mentioned a person from a political party – I'm sure it is not because of the party he represents.  He's just a good public speaker.
After the film we trooped around the corner to a little lane way bar called Ezra Pound.
It's a tiny bar full of mismatched furniture, with a limited wine and even more limited food menu but it's cute and groovy and a little bit hip.
I felt very much in-the-know taking my friends there…
We told stories, drank wine and beer and ate some pretty sexy olives.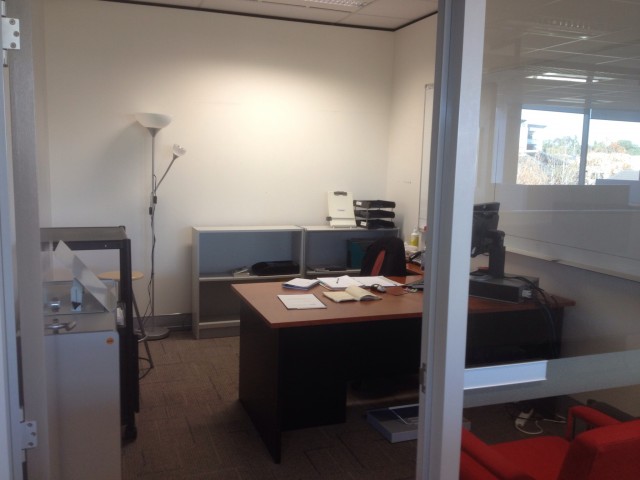 When I got back to Perth I had to find somewhere to "live" at work.
I've been seconded to another position for a couple of months.
So I now have an office.
Very exciting and a bit lonely too if I'm honest.
Apart from all that.  Not much storm damage and all family well.