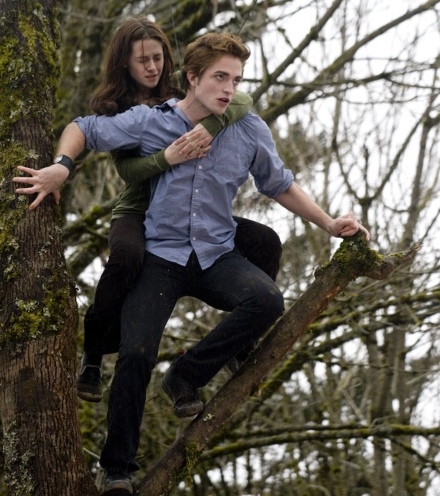 You know I liked the Twilight series, so it should come as no surprise to learn I went to the movie.
In fact I went with three other mums in Dippity's class – with the four girls who sat a few rows in front of us.  Sit with their mothers?  You've got to be joking.
The movie follows the plot of the first book pretty closely.  The scenery is breathtaking.  The character of Bella looked exactly like I imagined.
But as you'll have guess from the title of this post, I felt it lacked a little in the scary department.
Edward goes on and on about being a monster and dangerous to know but he just looks like a cute teenager, and the bits in the book where you "see" the monster just look a bit silly in the movie.
I guess I was expecting it to be a bit more Van Helsing.  A bit more scary teeth and hissing.
Especially in the vampire v vampire scenes.
With the scary scenes looking a bit silly it lost a bit of gravatas for me.
Still that said – sans menace – I enjoyed the film and I'm looking forward to seeing what they can do in book 2.
Maybe this time find some money for some CGI.  🙂