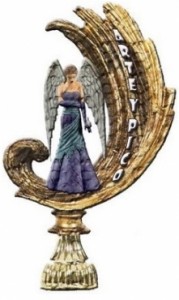 Got back tonight from the station, weary and with over 400 photos to sort. Hopefully I'll have at least four decent ones to share with you tomorrow, but I couldn't face them tonight…
I needed a distraction and a distraction I received from both Frippery and The Modern Historian who both awarded me the lovely Arte y Pico Award for lots of lovely things – thank you both!
1) Choose 5 blogs that you consider deserving of this award based on creativity, design, interesting material, and overall contribution to the blogger community, regardless of the language.
2) Post the name of the author and a link to his or her blog by so everyone can view it.
3) Each award-winner has to show the award and put the name and link to the blog that has given her or him the award.
4) The award-winner and the presenter should post the link of the "Arte y pico" blog (click on the image), so everyone will know the origin of this award.
5) Please post these rules.
So without further ado…
Niki from Hot Water – Hot Water has just had a makeover but I'm delighted to say Niki's warmth and acerbic wit haven't.
James's blog has also had a makeover to celebrate his long anticipated trip to Sweden. An Abba fan in Sweden is well… sweet really. Note the colours of the Swedish flag in the banner pic.
Berra Circular by Miss Fortune is the new look blog following on from her delightful Hobart Chronicles. I like the way she incorporates song lyrics into each post. She obviously crafts each post with care… it shows.
Reading Circles is another fave of mine – what I love most is Feline Groovy's banner pics and her whimsical posts sometimes incorporating snippets from her "real" diaries.
And last but not least and do I really have to stop at five????? – firstperson thirdcat – because her writing is funny, pithy and you know I like whimsical. Classy stuff.