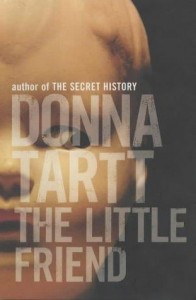 Donna Tartt doesn't write many books. It was at least ten years between The Secret History – which I loved – and this new novel The Little Friend.
Donna Tartt's books are dense novels. Rich novels. Long novels. At the end you feel intimately connected with her characters (possibly because it has taken so long to read about them), but it is ultimately a satisfying experience.
In The Little Friend we meet Harriet, aged 12. Our heroine grew up with an absent father, a mother whose grief made her practically absent, a sister, three elderly aunts and a grandmother, a housekeeper and a dead brother.
She was only 6 months old when he died but his death overshadows her life, both because of the legend he becomes but also because she wants to avenge his death.
So Harriet with her mate Hely come up with a scheme to get back at the man she reckons killed her brother, then a boy himself.
The action takes place over one hot, drowsy summer in Mississippi.
I felt drawn into the novel. It takes perseverance and a bit of ploughing through, Donna Tartt takes her time, but her descriptions and characters are so well drawn you feel as if you are merely remembering a time from your own past.
And yes there are some problems with the novel, sometimes I lost track of where I was, and the central mystery remains unresolved – which is a bit annoying especially if you've grown up with a collection of Agatha Christie novels – but then, maybe real life is unresolved?
If you're looking for light, holiday reading – this is not your best choice, but if you have time to sink into Donna Tartts world – then I think you will enjoy the journey. I did.
Make sure you have a big handbag if you are travelling with it though… 🙂
Reviews:
The Telegraph
BBC
Bloomsbury
January Magazine (didn't like it much)