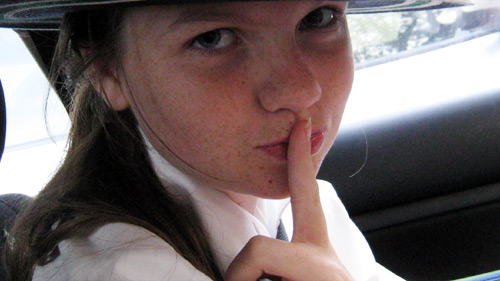 What I love about the school curriculum these days – no matter it be private or public – is the onus on public service.
I don't remember it being part of my education.
There are heaps of fundraisers of course but the kids are also required to complete a certain number of hours of community service.
Hugamuga for example teaches computer skills to elderly people.  Dippity has sat on the gate of a community fair collecting money.
The thing with community work is when you do it you realise that you feel SO good which is why I shouldn't have been surprised when Dippity came to me with  a handmade sponsorship sheet and a promise not to speak for 24 hours.
Win-win I thought.
🙂
She came up with it herself and convinced some mates to join her.  She got permission from her teachers and went for it.
They raised about $140.
We had a very quiet night.
Community service… it's a good thing.
UPDATE: For those of you who are interested here is the Education Department Policy.
As part of the Community Service Program students must complete a minimum of 20 hours of service in the community. Students complete their community service between Years 10 and 12.

From 2009, completion of 20 hours of service will be one of the requirements for achieving the WACE for Year 12 students. 

Schools provide students with a variety of ways in which they can complete their 20 hours of service through the Community Service Program.