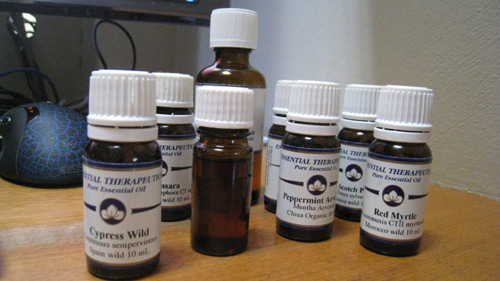 I'm getting ready for Flu Season.
I've booked in for a flu shot (April 30), free at my workplace.
And I've made up my flu prevention essential oil mix… which is also nice to use if you have a cold or flu.
I have great faith in my mix.  I use it all the time.  
At the slightest and I mean slightest sniffle I'm putting a drop on my tongue and rubbing it into my skin, breathing it in.
I didn't get flu last year but more impressively I didn't get flu when the rest of the family came down with it in the US (and I hadn't had a flu shot).
I'm a believer.
I'm not as sure about the flu shot.  
I didn't get the flu last year and I had the shot so I'm going to do it again.
A colleague surprised me by saying… "Hmmm I'm not sure I don't want the flu… a week in bed sounds nice…"
That would be okay only if you had the flu symptoms during the day.  
It would be annoying if getting the flu interfered with your life.
And why is it that I get a cold just as someone has a baby so I can't go and visit them?
It's happens all the time.
Am I allergic to babies?
Not going to happen this year peeps – I'm armed and dangerous.
I've got my brother's baby to visit in May and a (almost) sister's baby to cuddle in August.
Hmmm and those essential oils smell SOOOOO good.