I'm listening to Corrine Bailey Rae's Put Your Records On, it's just the perfect Sunday morning track. 
This morning we wandered down to the port to check out the Queen Mary 2, the largest passenger liner in the world.
Three times the size of the Titanic, the ship dwarfs the Fremantle Passenger Terminal.
We couldn't get too close and so it wasn't that interesting an experience if I'm honest.
Still you never know, one day I might even go on a cruise, you know, when I'm old enough.
Probably around the time that I give up dying my hair and own my own zimmer frame.
More interesting photo wise was the number of people taking photos.
And in fact perhaps the view from the ship itself is somewhat more interesting… this is a still from their webcam up on the bridge (click on the image to get an up to date photo):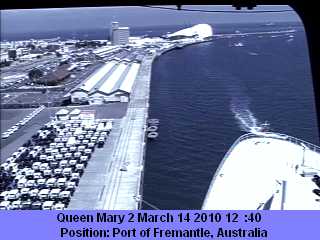 Tonight we have another night of Theatresports.
This time we're making the kids come along and watch.
Payback for all those concerts of theirs we sat through.
It will be interesting to see their reaction.