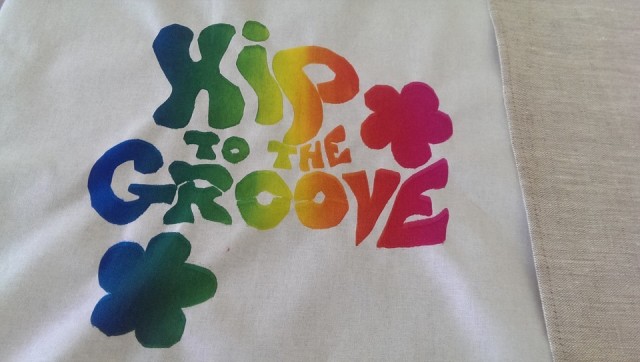 This story begins in Bali in 2011.
We were walking along the road with my teenagers and Abi's teens and we were discussing (I think) how "up with it" Abi and I were.
I said.. "C'mon, I'm hip to the groove…"
Thereby proving I wasn't and they all fell about laughing.
Fast forward to 2014 and Imogen has been heard using the phrase in conversation to mean "trendy".
Which is why at a screenprinting course I decided to immortalise Hip to the Groove in ink.
I went to the day long session with my brother Michael (an artist) and the aforementioned Abi who, in her spare time, themes events.
Both fair to say, artistic.
Me, I'm in radio, not a visual medium, unless you count spoken word pictures.
To say I felt a bit intimidated is an understatement.
Anyhow I was pretty happy with my freeform Hip to the Groove design and very happy when the teacher showed me how to do a rainbow print.
Until.
Until I showed this photo on my phone to a colleague.
"What's Kip to the Groove?"
Sigh.